Community planning is about how public bodies work together and with local communities to design and deliver better services that make a real difference to local people's lives. Community planning is a key driver of public service reform at local level.  It provides a focus for partnership working driven by strong shared leadership, directed towards distinctive local circumstances.  Partners work together to improve local services, ensuring that they meet the needs of local people, especially for those people who need those services most.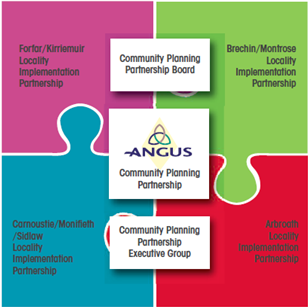 In order to ensure community planning in Angus is 'fit for purpose' the structure and membership of the partnership have been revised. 
The partnership through consultation with communities have developed 3 priorities:
reducing child poverty
improving mental health and wellbeing
improving accessibility and connectivity
Communities lie at the heart of community planning: they can and do achieve things for themselves, and we need to build on this and increase the level of influence and control that local people have over the decisions and services that have an impact on their lives. Working together makes it easier to improve outcomes and tackle the inequalities that some people experience.
What are we already doing as partners?
We are not starting with a blank sheet of paper. We already have a number of partnership plans and strategies at a Tayside, Angus and local level which are helping to achieve our vision for the future. In addition, all the partners who are involved in the community planning partnership will have their own plans and strategies which have a positive contribution to make to our local outcomes. We need to ensure there are strong links between partners - agencies, the private and voluntary sectors and communities - so that we understand each other's priorities and commitments in order to work together more effectively.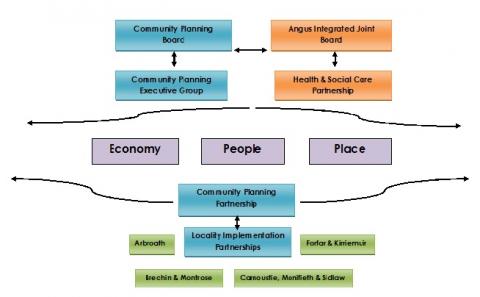 Angus Community Planning Partnership includes the following:
Angus Council
Community
Private Sector
Board
The partnership has a board which has responsibility for governance and leadership, and an executive group which manages/scrutinises performance of the local outcomes improvement plan and locality plans and coordinates and aligns resources. Locality implementation partnerships are being formed to lead our work together on areas for action identified in localities.
Board members
Angus Council
Angus Health & Social Care Partnership
Dundee & Angus College
Montrose Port Authority
NHS Tayside
Police Scotland
Scottish Fire and Rescue Service
Andrew Shepherd Construction ltd
Voluntary Action Angus
Board pledge
to commit to the vision priorities and outcomes in the Angus Local Outcomes Improvement Plan and Locality Plans
to challenge ourselves to reduce inequalities
to strive to increase the positive impact we make to grow the economy; support people and communities and sustain and protect the environment
Board minutes and related documents
More information is available in the following documents: