Published on Monday 9 July 2018
Having once provided the building bricks of education, Academy Court in Forfar now provides the latest and most modern of Council houses that people can be proud to call home.
As new tenants prepare to move in to the revitalised local landmark, Angus Council wants to give the community a chance to see just how new life has been breathed into a building and grounds that had until recently been surplus to need.
An Open Day is being held at Academy Court on Saturday 14 July, from 10am – 2pm. The event will give the community, former pupils and staff among them, a chance to see the transformation before tenants move in.
The B-listed former Chapelpark school buildings have been reimagined and developed into 29 high quality affordable homes for social rent - comprising of 18 one bedroom flats, 6 two bedroom flats, 1 three bedroom flat, as well as 4 new-build five bedroom townhouses.  Six of these properties are suitable for households with particular needs.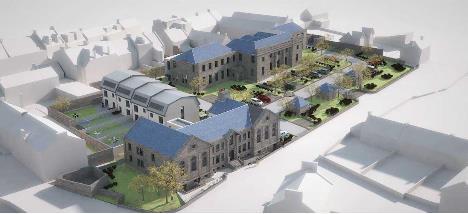 The new-build homes are designed to complement the surrounding properties and still maintain their own individual identity.  High levels of thermal insulation, air tightness and passive solar gain, coupled with careful use of non-toxic materials, provide comfortable, efficient and healthy homes. The properties meet barrier-free design criteria and include a range of home safety measures including sprinkler systems.
This ambitious and attractive development guarantees the future protection and enjoyment of a well-known local building that has fulfilled a major role in the community over many years.
Angus Council's housing spokesperson Cllr Craig Fotheringham said: "I'm delighted to see the completion of these new housing options for tenants. They are truly modern homes, with their innovative heating and energy efficiency features. Their design and construction ensures that the character of the original buildings has been retained for future generations to enjoy."
Cllr Lois Speed, also our housing spokesperson said: "This development provides much needed housing for a range of household sizes and types, including new options for households with disabilities. Its central location, close to essential amenities, will be great for our tenants. The design and construction methods used are also sympathetic to the environment as we try to reduce our carbon footprint."