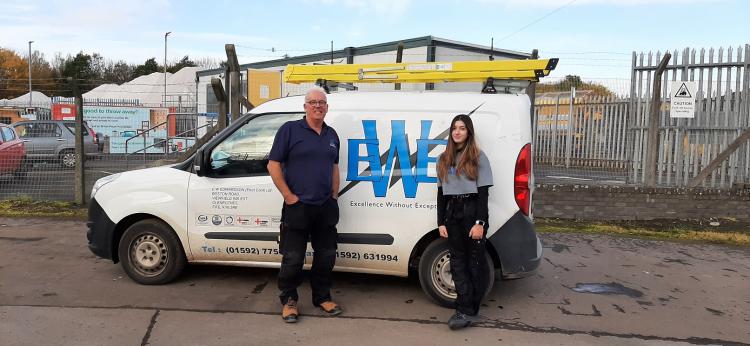 Tuesday 20 September 2022
Angus Council is calling on local businesses and employers to support young people getting ready to leave school to develop new skills and gain experience by offering work placements.
Work placements can take place on a fixed or flexible basis to best suit the young person and the employer and can vary from a fixed week to one day a week for several weeks.
Convenor for Children and Learning, Cllr Lynne Devine urged local businesses to offer support, explaining: "Now more than ever it's so important that young people get the chance to learn new skills and gain experience to help them get ready to make the move from school to employment or training.
"Building partnerships between schools and local businesses to offer a range of high-quality work placements, ensures our young people get the chance to hear from and work directly with people in the world of work. We already have some excellent partnerships but more are needed so I urge any local businesses interested to get in touch with the council to find out more."
Lucy Telfer, who completed a work placement said: "The work experience placement I attended with EW Edwardson gave me the confidence to work with other people of all different ages and backgrounds, communicating with them and learning the skills I needed to progress my career as an electrician.  The placement gave me hands on experience in different environments and helped me understand what being an electrician entails. This work experience placement led to me being offered an apprenticeship with EW Edwardson taking the weight off my shoulders of having to find an apprenticeship with another company.
Lewis Farrow, Area Manager/ Director, EW Edwardson Ltd who recently offered a work placement said: "At EW Edwardson we are always happy to support in developing and encouraging the next generation coming through the electrical industry. It was a great fit for us to get involved, allowing us to give the students a real insight to assess if it's the correct career choice for them. For us as a company it is very satisfying to see the student develop." 
The benefits to employers offering work placements include developing the skills of staff, engaging with the local community, raising their profile, promoting opportunities in their industry or profession, enjoying the energy and perspective of young people and identifying potential future employees.
Any local business looking to offer a young person a work placement or to find out more, can complete our online work placement employer registration form.