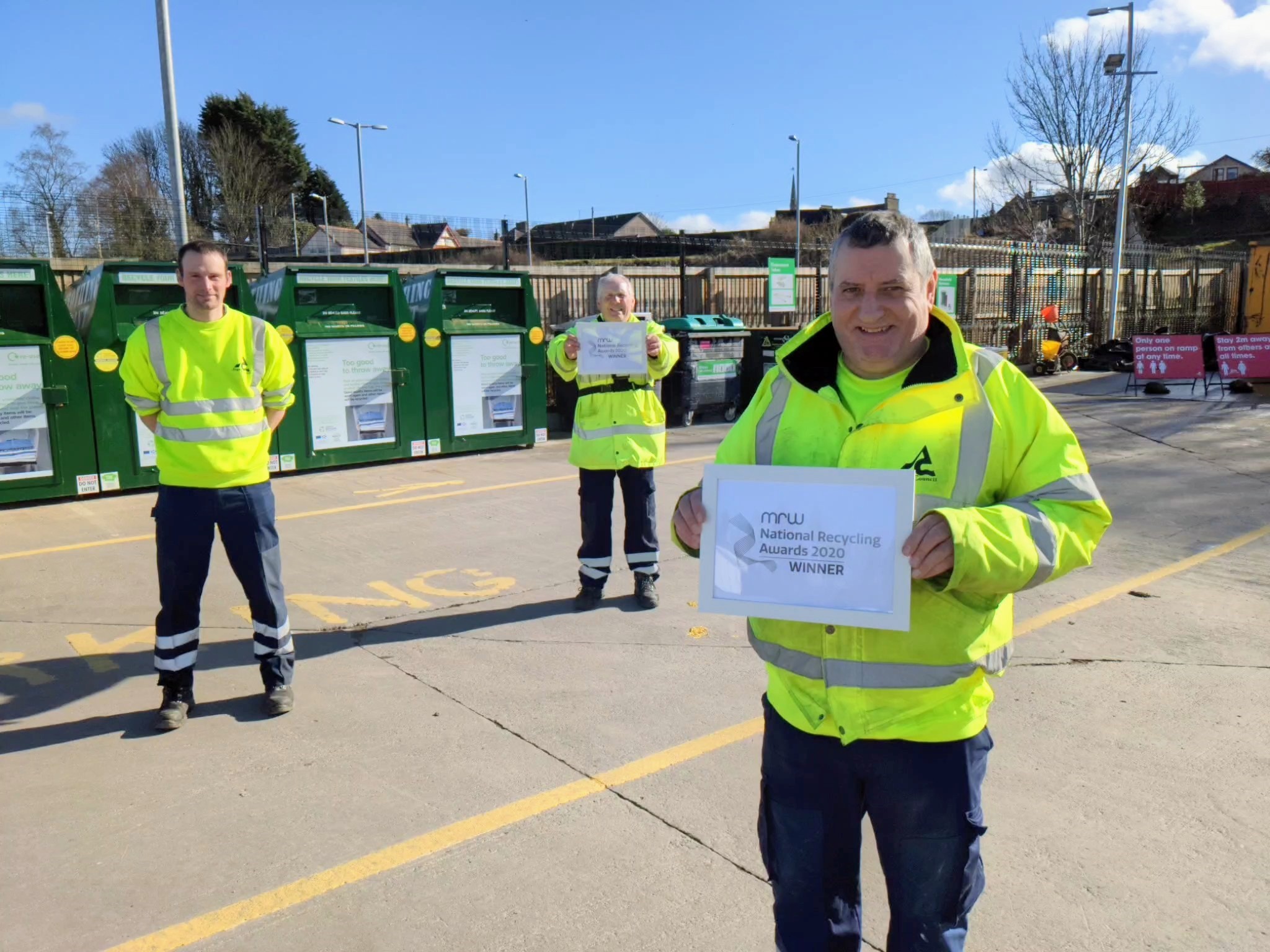 Monday 1 March 2021
We've won the "local authority success" award for their redesign of recycling centres at the National Recycling Awards 2020.
The council was the only Scottish authority shortlisted for the prestigious UK award celebrating local authorities that have effectively put in place an initiative to drive significant success in recycling, reuse or waste prevention performance while offering public value for money.
The recycling centres redesign saw the council keeping and improving access to recycling at all seven centres in Angus and included the major redevelopment of Forfar recycling centre. The aim was to deliver savings by increasing the amount we recycle, rather than by reducing the number of local facilities.
All the centres were reconfigured to accept the widest range of materials possible, and customers were directed to the three largest centres to dispose of any non-recyclable (general) waste where there was also space for a full range of recycling containers and where more staff were available to provide advice and direction.
Thanks to the changes made, the annual recycling rate at Angus recycling centres jumped from a baseline of 51% to 63% in 2019/20. The wider drive by people in Angus to recycle more has resulted in the county placing second out of 32 Scottish local authorities for household recycling. The agreement Angus Council has to send non-recyclable waste to the waste-from-energy facility at Baldovie, Dundee, also means Angus is one of the best in terms of sending, or rather not sending, waste to landfill.
In announcing the winners at the virtual ceremony on 27 January 2021, the judging panel said "This is a council that bucked the trend and had the strength of mind to resist the obvious solution of cutting back, instead really reshaping its service to keep it open." 
Communities Convener, Cllr Mark Salmond said: "We are thrilled to win the local authority success award. This is a massive achievement for the people of Angus who have been exceptional at recycling as much as they can when visiting our centres. I'm also delighted staff have been recognised for transforming our facilities to offer maximum recycling opportunities for our residents. The commitment from our recycling staff at our recycling centres is inspirational."
Communities Vice Convener, Cllr Tommy Stewart added: "To win this award is a fantastic recognition of the outstanding effort our residents make in respect of recycling. These changes resulted in significant increases in our recycling rate while ensuring best use of council resources, equipment and staff. Angus is already one of the best places for recycling in Scotland, but we hope to do even better in the future"
The MRW National Recycling Awards brings together recycling and waste management professionals to recognise and celebrate best practice and innovation in recycling and waste management. The winning projects and teams are rightly recognised for their achievements within the industry and beyond.