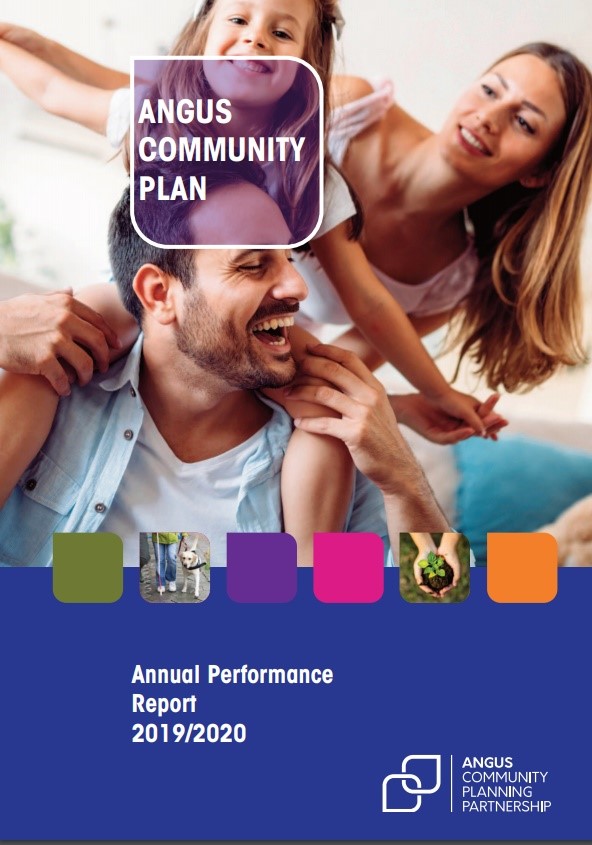 Friday 6 November 2020
Angus Council's Community Plan Performance (CPP) Report approved at council on 5 November 2020, highlights the wealth of activity completed during 30 June 2019 to 30 June 2020, to achieve the community planning vision to make "Angus a great place to live, work and visit".
Community planning is a statutory responsibility for local authorities to show how public bodies work together, and with local communities, to design and deliver better services that make a real difference to people's lives.
As well as the work undertaken to deliver actions under the three priorities – reducing child poverty, improving mental health and wellbeing and improving accessibility and connectivity, there have been a number of key partnership successes.
The Community Planning Hub opened on 28 January 2020. This new shared space within Voluntary Action Angus (VAA) headquarters gives partners across Angus an opportunity to increase engagement and partnership working.
The Angus CPP Period Poverty campaign has grown and become 'Free Period Angus' with the aim of eradicating period poverty in Angus by 2021.
Angus CPP membership of Water Safety Scotland has led to additional activity around suicide prevention on our waterways.
The Angus CPP Transforming Services work has brought key partners and service providers together with great results on the delivery of grants and contracts.
The Humanitarian Aid Angus Response Team (HAART)activity has resulted in over 32,500 meals distributed to local people, over 3,000 prescription deliveries, over 800 hours of befriending and 155 devices (ipads, chrome books) distributed to those at risk of digital isolation.
Margo Williamson, Chief Executive, Angus Council said: "Throughout 2019/20 the partners worked hard to deliver the combined action plan for all three priorities and agree indicators to better show the impact of the partnership's work, however from February to June 2020 this was disrupted due to Covid-19 pandemic.
"Bringing people and organisations together is the best way to build stronger communities and we've seen how this has grown during the pandemic. The HAART initiative is a perfect example where Angus Council, VAA, ANGUSalive and other key third sector organisations came together at this crucial time to make sure people in Angus got and are still getting the support and help they need.
"But we need to build on this and increase the level of influence and control that local people have over the decisions and services that have an impact on their lives. The Angus CPP Board and the Executive group are determined to make significant progress in the coming year incorporating the learning which has come from the pandemic, taking this forward into our future work."
Scott Gibson, Chair Angus CPP Executive Group said: "The partnership approach which is evident and well practiced in Angus has and continues to play dividends to the local communities allowing us to have a joint approach to making it a safer and better place to live. This involves working with those communities from the inside out and including everyone in decisions that affect us all."
You can view the Community Plan Performance report on our website.