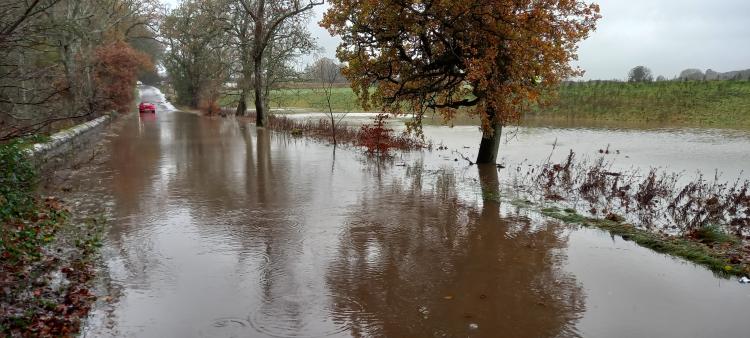 Published Monday 21 November 2022
From Thursday 17 November 2022 until Sunday 20 November, Angus experienced extremely widespread, heavy and persistent rain with an Amber weather warning in place for 00:00-15:00 on Friday 18 November.
SEPA, having issued multiple flood warnings on several rivers throughout the day increased the flood warning for the South Esk in Brechin and Finavon and Tannadice to Severe, the highest warning possible indicating a danger to life. Updated flood warnings were also issued for the Brothock Water and the River North Esk.
At 18:00 on Friday the Tayside Resilience Partnership2 declared a Major Incident for Angus due to the high number of flooding incidents across the whole of the county and the level of demand placed on responding services.
The Met Office recorded 90mm of rain falling at Invermark in Angus (acknowledging that this would be significantly higher in the Glens) in the 48 hour period between Thursday and Friday which exceeds the November monthly average.
Under these unprecedented circumstances, it was inevitable that some areas across Angus would unfortunately flood. However, the absolute priority for Angus Council and its partners was to prevent the very real danger to the loss of life. This will always be the priority and the council stands by its decisions.
Staff were deployed across the Angus area and working from Friday morning and throughout the weekend. Given the volume and magnitude of the issues faced, the council's response prioritised risks to life issues.
Brechin flood Prevention Scheme
The £16m scheme, completed in 2015 proved effective. The main flood defence, which contains the South Esk River in Brechin, held. This is despite levels provisionally reported by SEPA being at 3.520m (333mm higher than 2015 flood event), which is the highest ever on record. Had these defences not been in place, there would have been widespread and potentially dangerous flooding of an estimated 332 properties, beyond anything yet experienced by Brechin.
There was one issue experienced. Two of three pump stations which remove surface water from River Street from run-off and other sources, did not start automatically when water was detected. As soon as this was identified, a council officer attended, and the pumps were successfully started by that engineer at around 17:00 on Friday. These pumps were inspected in August and were set to automatically operate at that time. These pumps were inspected and maintained in August and reported to be in good working order, switch on and in automatic mode.
Arbroath Brothock Flood Protection Scheme
Again, this scheme which is nearing completion functioned extremely well and is designed and built with a purpose to protect Arbroath from flooding from the Brothock Water.  Had this scheme not been in place, it is predicted that around 674 Arbroath homes and businesses, including supported housing and vulnerable households, would have experienced severe flooding. It also prevented flooding of key transport links including the railway line, the A92 and A933.
There were areas around Letham Grange that did experience flooding, but these were not part of the scheme and the flooding there was entirely due to the high volume of surface water from the exceptionally heavy rainfall, in common with other areas across Angus.
Chief Executive Margo Williamson said, "Council officers worked tirelessly to respond to the worst flooding we have experienced for a very long time. The intensity of the rain and the speed of the flooding was unprecedented, meaning that every single area of Angus was affected simultaneously.
Many of our staff came in from holidays and days off and worked through the night, even taking up new roles to support their own communities because of the difficulties in providing support to affected areas.
I am immensely proud of the efforts of my colleagues and our partners, as I recognise that had steps not been taken to improve flood prevention, the situation would have been immeasurably worse and perhaps lives endangered."
Angus Council leader Cllr Beth Whiteside said, "Anyone who was anywhere in Angus on Friday can be in little doubt that the challenges faced by responders was huge. Sadly, and despite best efforts, it was impossible to prevent a small number of properties being flooded. While this is terrible for those households, it could have been so much worse.
I would like to add my thanks to all staff, partners and volunteers who played a part in preventing loss of life and the preservation of so many homes and businesses. I would add that I am concerned that with climate change effects, we will be faced with challenges like this on a more frequent basis."
As with all such events the council actions will be reviewed, and lessons identified.
-ends-
Notes to Editors
1 Joint Emergency Service Interoperability Programme (JESIP) definition of a major incident. Ref: https://www.jesip.org.uk/uploads/media/app/Jesip-web-version/major.html
2 Tayside Resilience Partnership2, a multiagency forum was declared which comprising of Local Authorities, Blue Light services, other agencies such as Met Office and SEPA and utility companies, and volunteer and third sector partners such as Tayside 4x4 response, British Red Cross and many other communities' teams
3 SEPA responsibilities for flooding actions can be found here: https://www.sepa.org.uk/environment/water/flooding/responsibilities-for-flooding/