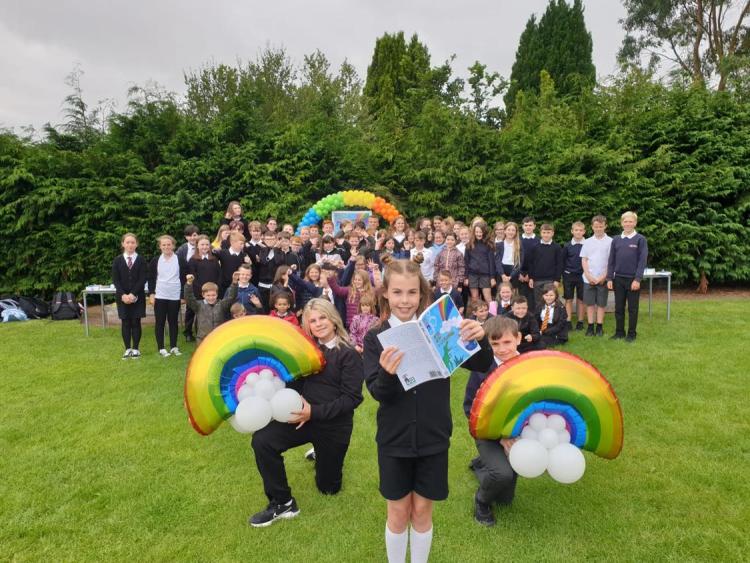 Friday 13 August 2021
Once upon a lockdown, in the deep depth of doom, Coronavirus kicked down the front door and had taken over the world.  With schools shutting their doors, the children from Letham Primary School in Forfar were over the moon thinking they would escape the pages of work they had to write at school, but they were wrong! Instead they used story writing to help them through their time because they all enjoyed writing so much and have now published its own "Once Upon a Lockdown" book which features a collection of stories written by pupils during lockdown.
The 86 children involved took the opportunity during lockdown (while learning from home or attending the school hub) to improve and develop their writing skills. Head teacher Mrs Frain was so impressed with the standard of writing that with the backing of the children, parents and the local community decided to get the book published.
The children were involved with the whole publishing process including drawing the illustrations and designing the cover, while the local community helped support the publishing costs.
Mrs Karen Frain, Head Teacher of Letham Primary School said: "The lockdown period was a very challenging time for all pupils, whether they were working in school with us or working remotely from home. I could not believe the enthusiasm and the quality of and standard of writing that was completed by the pupils during this period of time. Mrs Green provided the children with a wide variety of inspiring writing activities and I was blown away by the hard work of all the pupils. 
"I personally have enjoyed reading each and every story and have been immensely impressed by the standard produced. I will treasure this book and add it to my happy memories of working with the pupils and staff at Letham Primary School."
Mrs Green, teacher at Letham Primary School said "This project was a labour of love and I am beaming with pride for our extremely talented young learners, and I can't wait for everyone to read these incredible stories—this is my proudest moment of my teaching career." 
Vice Convener of Children and Learning Committee, Councillor Ron Sturrock said: "It's great to hear how the children made the best of being in lockdown to practise and perfect their writing skills. With stories about snowmen, baby dragons, magical staircase, rainbows, classroom disasters, scary old bridges plus much more, the children have really used their imagination to write the most wonderful stories. There are not many children who can say they are a published author. What a fantastic achievement!"
While the project was not intended as a fund-raising opportunity any money raised from the sales will be fed back into enhancing the writing curriculum at Letham Primary School. The book is available on Amazon.