Published on Friday 1 February 2019
Angus Council has partnered with Living Streets Scotland, part of the UK charity for everyday walking, to run a wide-reaching programme to encourage more children walk to school.
WOW, the year-round walk to school challenge is Living Streets Scotland's award-winning behaviour change scheme to encourage and enable more children to walk to school.
WOW is running in nine schools across Angus in 2019; Maisondieu Primary School, Ferryden Primary School, Timmergreens Primary School, Warddykes Primary School, Northmuir Primary School, Whitehills Primary School, Langlands Primary School, Strathmore Primary School, Birkhill Primary School. The schools are joining over 210 schools across Scotland in the mission to increase active travel to school.
With WOW, pupils log their daily journeys to school on the WOW Travel Tracker. Those who walk to school at least once a week for a month earn a WOW badge, which has been designed by pupils in a UK-wide competition and made from recycled yoghurt pot material.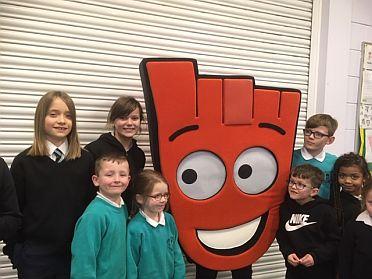 According to Living Streets Scotland, schools which take part in WOW typically see a 23 per cent increase in pupils walking to school on average and a corresponding drop in car use; reducing congestion outside the school gates and increasing safety.
To celebrate Angus Council's commitment to WOW, Strider, Living Streets' mascot will be taking a mini tour of schools that are taking part and will be doing assemblies highlighting the benefits of walking. Strider will be learning about the school journey and encouraging the pupils to keep up the walking.
Lesley Cook, School Travel Administrator said: "Walking to school is great for children allowing them independent travel usually for the first time and also the more children who walk the less congestion around each school thus creating a safer environment for everyone."
Joe Irvin, CEO of Living Streets said: "Walking to school is an easy and accessible way for children to incorporate physical activity into their daily lives, helping them arrive fit, refreshed and ready to learn. Walking to school is also a great way for children to learn vital road safety skills and build lifelong healthy habits. We're thrilled to have more Scotland schools on board; I'm sure it will make a huge difference to their pupils' health and happiness."