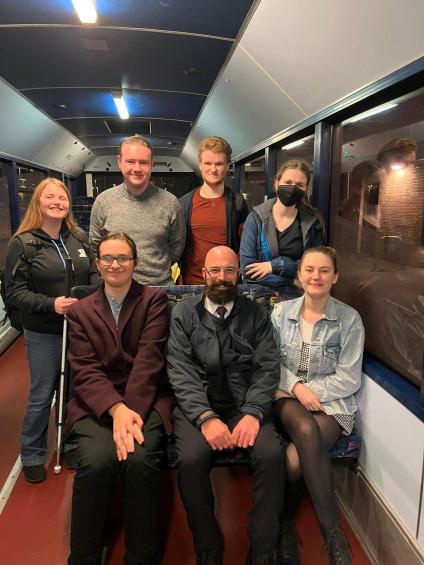 Thursday 30 March 2023
The Angus Youth Media Project has been shortlisted for a National Youth Work Award for their work in sharing information and raising awareness of national and local issues with young people in Angus.
The Angus Youth Media Project which started over nine years ago gives local young people the opportunity to learn and gain experience working in the media and digital world, sharing information and creating content that is accessible to all young people in the Angus area via their Angus Young Scot webpage.
The young people report on a range of topics including local events and tackling issues young people face, most recently collaborating with local MYSPs (Members of the Youth Scottish Parliament) around barriers to travel in rural areas. 
Convener of Children and Learning, Cllr Lynne Devine said:
"Well done to the Angus Youth Media Project on their nomination in the Digital and STEM category of the National Youth Work Awards. Being nominated is a great achievement and acknowledges the hard work and commitment of all the young people and the staff involved in this project "
Pauline Rettie, Communities Officer in the Communities Team who works with the young people said:
"The group has evolved, responding well to the changing needs of young people in Angus. Many of the young people in the project are those less likely to be involved in youth work, including those not in education or employment, young carers or those who experience disabilities and difficulties. The safe and inclusive environment means members feel comfortable and can develop their skills and get involved.
"Being shortlisted for such a competitive and prestigious award is a fantastic achievement for the project. It highlights and recognises the tireless work that goes into making this project a success. I would be, and I know the team would be delighted if the project won!"
Angus Youth Media Project group member said:
"I think it's a really big achievement to be shortlisted for this award.  I am really proud to be part of a team with such incredible individuals."
This year's National Youth Work Awards Dinner will take place on Wednesday 21 June in Glasgow.
Information about the National Youth Awards is available on Youth Link Scotland's website.