Published on Friday 18 October 2019
Arbroath 2020 has announced an impressive programme of events to celebrate next year's 700th anniversary of the Declaration of Arbroath.
A horse-led procession of over 500 people marching from Arbroath Abbey to Arbroath Harbour, an atmospheric re-enactment of the Declaration of Arbroath sailing to France in 1320, a giant outdoor lunch on Beacon Green and hundreds of voices singing within the walls of Arbroath Abbey are just some of the events designed to ensure the 700th anniversary of the Declaration of Arbroath is celebrated in style.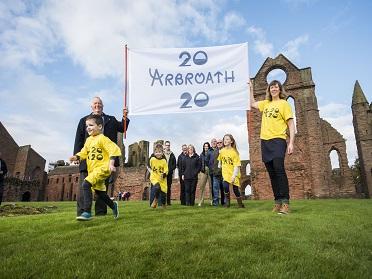 Harry Simpson, chair of Arbroath 2020, the charity established to commemorate the 700th anniversary of the Declaration of Arbroath said: "The highly significant part Arbroath played in history is worthy of a series of celebrations that will be remembered for generations. Many months of creativity, planning and hard work by Arbroath 2020 Committee, our partner organisations and local groups have resulted in an exciting and ambitious six-month programme of celebrations.
"The events taking place in Arbroath during 2020 will shine the light on our historic town, bringing people together, attracting visitors from near and far."
Celebrations begin on April 4 with a festival weekend that will feature several key Arbroath 2020 events including 300 singers giving voice to the world premiere of 'Of Light Breaking' at Arbroath Abbey, as well as poetry by Grahame Davies.
The weekend will also host a procession by 500 people and more to the anniversary, which hopes to evoke the spirit of pageants that were held in the 1950s and 60s, as people in the garb of medieval nobles, soldiers and monks re-enacted the events around the 1320 signing of the Declaration of Arbroath., led by King Robert The Bruce.
Following the procession, Beacon Green will be the venue for The Big Eco Lunch - a celebration of Angus food and drink.
Angus Council Leader, Cllr David Fairweather said: "I look forward to celebrating the 700th Anniversary of the Declaration of Arbroath and the elemental role that my hometown fulfilled in setting the character and identity of Scotland and its people – past, present and future. This important occasion will attract attention from far and near, shining a very bright light on Arbroath and Angus. We look forward to many visitors joining with our local communities in enjoying the exciting programme of events.
"The Big Eco Lunch will be a fantastic opportunity for people to share the unrivalled food and drink that Angus provides for a global market and which draws people in to our county. Tourism is vital to Angus (generating £240 million within the local economy in 2018) and Angus Council is delighted to work closely with Arbroath 2020 organisers in providing another magnificent attraction to the area."
For more information go to the newly-launched Arbroath 2020 dedicated website - Arbroath2020.com - where the packed programme of events can be found, along with information on special projects and how to get involved.