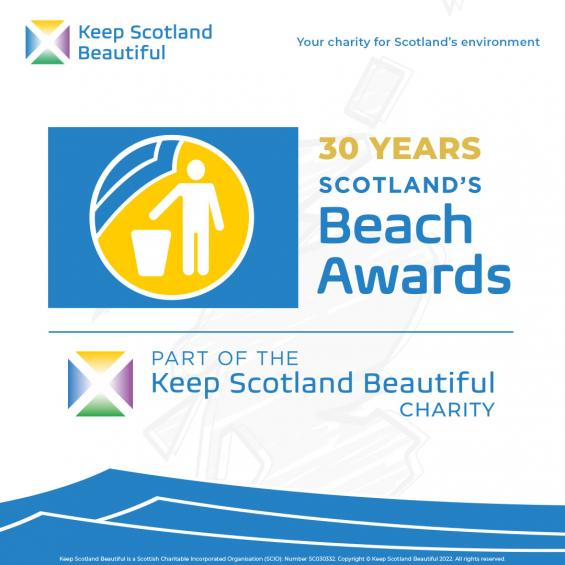 Wednesday 8 June 2022
Keep Scotland Beautiful has announced that six beaches in Angus have become a prestigious Scotland's Beach Award winner.
As we gear up for summer the good news is that around Scotland's iconic coastline, from Shetland to the Scottish Borders, there are now 53 award beaches – offering a great visitor experience while being managed to protect the environment.
This year Lunan Bay, Montrose Seafront, Arbroath, Carnoustie, Monifieth and East Haven in Angus have all been recognised with Scotland's Beach Award - the only national benchmark for local environmental quality celebrating clean, well-managed and sustainable beaches.
Scotland's beach awards in numbers:
53 winning beaches in 11 different local authority areas.
Two beaches celebrating 30 years as award winners in Fife and East Lothian.

Two new beaches join the award winners in Ayrshire.
Barry Fisher, CEO of Keep Scotland Beautiful, said, "It is wonderful to see 53 sites win Scotland's Beach Award status this year, with six in Angus and we are delighted to celebrate with all those employees and volunteers who work tirelessly to ensure award standards are maintained.
"As the only accreditation for beach management of its kind in Scotland, we aim to drive up environmental standards along the coastline of our country for residents and visitors alike.
"Scotland's coastlines and waters attract thousands of visitors every year and I'd encourage everyone to #RespectProtectEnjoy these beaches this summer."
Angus Council leader, Beth Whiteside said: "We're delighted once again that six beaches in Angus have been awarded Scotland's Beach Award status by Keep Scotland Beautiful.
"The council is very proud of all the work our teams and local community groups do to make sure our beaches are clean, safe and attractive for everyone to enjoy."
Wendy Murray, Lead Trustee, East Haven Together said: "East Haven Together are delighted to achieve another Beach Award in 2022. The award recognises the great efforts the community make to keep the beach and local amenity as clean, safe and attractive as possible. We welcome thousands of visitors over the summer months and want everybody to enjoy our beautiful Angus coastline."
Malcolm Roughead, Chief Executive of VisitScotland said: "Scotland's diverse coastal scenery ranging from dramatic cliffs to gleaming white beaches, rolling nature reserves to island escapes are a vital part of Scotland's tourism offer, attracting visitors from within Scotland, the UK and overseas.
"Over the last two years interest in coastal destinations has remained high as people have sought outdoor locations and activities with our own research showing the positive benefits being near the water can have on wellbeing.
"Scotland's Beach Awards winners are a sign of the high-quality visitors can experience. Congratulations to 53 beaches awarded status this year and to Keep Scotland Beautiful on the 30th anniversary of the scheme.
"Valued by communities and visitors alike, to ensure our beaches are protected for the enjoyment of all, we ask everyone to be respectful and responsible when visiting, looking after our natural landscape and leaving no trace of their visit."
To be successful in achieving Scotland's Beach Award, a beach must meet a range of criteria, including beach safety, access and facilities, and cleanliness. Focusing on local environmental quality, the award is designed to complement the work undertaken by the Scottish Environment Protection Agency on bathing water quality. View the full criteria.
A map showing all the award-winning beaches with directions, facilities and images.