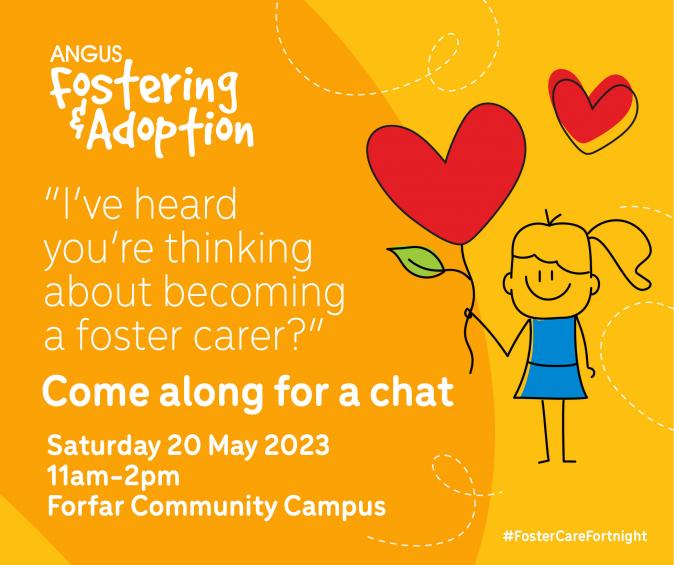 Thursday 18 May 2023
As part of Foster Care Fortnight 2023 (15-28 May), Angus Council is holding a drop-in session for anyone who would like to find out more about becoming part of their fostering community.
Staff from the council's fostering and permanence team, as well as some of their foster carers will be at Forfar Community Campus on Saturday 20 May between 11am and 2pm to chat about all things fostering whether you're at the initial stage of looking into it or you've done your research and are ready to get started.
Angus Council's Director and Chief Social Work Officer, Kathryn Lindsay said:

"Our foster carers do an amazing job looking after our Angus children. It's a hugely rewarding role, seeing a child develop and grow while in your care, even although it can be challenging too. But we just don't have enough foster carers to support all the Angus children we need to.

"These sessions are part of our ongoing recruitment of foster carers who will join our fostering community. We're looking for people to provide short breaks, interim care (full time care until a child moves on) or permanent care.

"So, if you think you could make a life-changing difference to a child who needs you, please come along to our info session on Saturday 20 May at Forfar Community Campus between 11am and 2pm or get in touch for a chat. You are the person we have been waiting for."
Foster carers for Angus Council receive a fee and regular allowances to support the cost of looking after a child on our behalf. The council also provides training, individual and group support to help foster carers develop the skills they need to make sure they can meet the needs of the children in their care.
If you would like to know more about fostering, visit Angus Council's fostering and adoption website www.angus.gov.uk/fosteringandadoption, call 01241 464646 or email fosteringandadoption@angus.gov.uk