Published on Friday 26 October 2018
Angus Council Leader, Cllr David Fairweather today welcomed the wide range of strategic developments and investments that have been transforming Montrose.
The Montrose Road South scheme saw £3m of council investment in infrastructure result in a return of £100m in private sector investment. The project involved the demolition of a number of properties, road realignments, new road construction, landscaping and the construction of a new feature wall around the port. The aim of this innovative partnership was to improve the access to the area for large vehicles, remove large vehicles from residential areas, improve safety and improve the look of the area. The success of this scheme was recently recognised by winning a prestigious MJ Award for 'Innovation in Property and Asset Management'.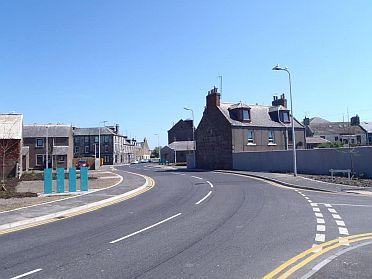 The private sector has also flourished. This year a Scottish Enterprise grant of £4.9 was awarded to Baker Hughes GE to allow the oilfield services group to develop a £31m manufacturing campus which is expected to create 100 more jobs at the firm's Montrose site.
In addition, this week GSK welcomed the First Minister to its state of the art site which has recently seen a further £54m investment in the plant that now employs 600 people from the area, following an earlier investment in 2016 of £25m.
A further £1.5 Million Scottish government grant was added to a £5.9m investment by Montrose Port Authority to introduce a series of improvements which will allow larger cargo vessels to dock at the port. Over a five-year period, it is expected the move will deliver environmental benefits worth £5.2m through the removal of 1.26m tonnes of freight from the roads and 86,000 HGV lorry journeys in the process. Montrose Port also had its first cruise ship arrive on 17 August 2018.
Cllr Fairweather said, "This area is a region with a recognised potential for enhanced Growth Value Added (GVA) for Scotland. The investments to date provide evidence that there is a great opportunity for further growth from further investment in its industry, facilities and infrastructure which will benefit the whole of Angus, Tayside and indeed Scotland."
Communities Convener, Cllr Mark Salmond added, "The council is still actively working to secure the future of Montrose with an additional funding bid contained within the Tay Cities Deal which we understand will be announced towards the end of this month. As Communities Convener, I have written to Montrose area MSP Mhairi Gougeon and MP Kirstene Hair to ask them to continue to support the North Angus Investment bid which includes a request for funding to reopen the rail head in Montrose and the further development of the roads infrastructure with a Montrose Road North scheme. This would further secure the future of the area by allowing better access to the North and South".