Published on Thursday 24 January 2019
Recycling our waste has never been more important – economically and environmentally there is a growing global focus on recycling to save.
Angus has an excellent record when it comes to recycling. Upcoming changes to recycling centres are designed to maximise people's recycling opportunities and encourage greater recycling.
Communities Convener and Vice-Conveners, cllrs Mark Salmond and Tommy Stewart headed to the waste to energy plant at Dundee for a first hand rummage through a general waste skip that arrived from Carnoustie Recycling Centre to get a sense of the range of discarded items.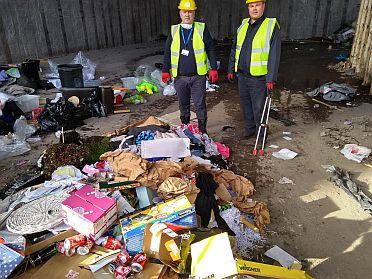 Cllr Salmond said: "We already recycle about 50% of the waste that comes into our recycling centres, which is good, but we wanted to get our hands dirty and check out a general waste skip to see where there were missed recycling opportunities. We were keen to see at first-hand the types of recycling material that are being lost to general waste across Angus and where we can all improve our recycling efforts."
The councillors raked through skip contents and retrieved all the recyclables they could see. They estimate that around a third of the skip's contents were recyclable – and included paper, cardboard, cans and plastic bottles that could have gone into the grey recycling bin. They also found garden waste, wood, scrap metal, textiles and small electrical items, all of which can be recycled at recycling centres.
Cllr Stewart said: "We found a lot of black bags which contained recyclables that could have been recycled in the grey bin at home. Angus has a kerbside recycling rate that stands favourable comparison with other parts of Scotland. But on the evidence of what we saw, it is clear that we can all do more and that our targets are not overly-ambitious."
Residents can take their recyclable materials to any of our seven recycling centres in Angus. From Monday 4 February 2019, only the bigger recycling centres at Arbroath, Forfar and Montrose will accept non-recyclable waste.
Trailers will now be allowed access to all recycling centres from 4 February, due to extended opening hours and the expected reduction in traffic at sites that will only accept recyclable waste.
Anyone who takes their household waste to a recycling centre by van or trailer will need to register for a free permit (you can register online at www.angus.gov.uk/recycling from early March 2019). Only vans or trailers with a valid permit will be allowed to use recycling centres from 1 April 2019. The permit scheme aims to prevent unauthorised tipping of commercial waste at recycling centres.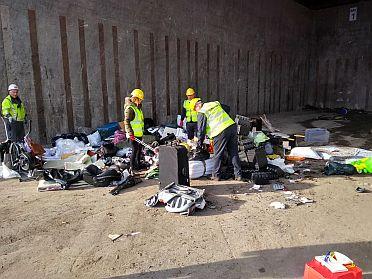 Cllr Salmond continued: "A relentless focus on recycling is essential for us to retain all seven centres in Angus, as people have asked us to do, and at the same time make the significant savings required. Recycling begins at home, at the kerbside, and it is vital people get the Right Stuff in the Right Bin at home and then get it right again at their local recycling centre. By doing this I am sure that we can recycle even more - we aim to increase our recycling rate at recycling centres from 51% to 60%, which will help us to retain services."
You will find details of our recycling centre opening hours, as well as much more information and advice on our dedicated bins and recycling website pages.