Published on Thursday 11 January 2018
Congratulations to The Retreat at Glenesk for receiving the Eat Safe Award earlier this month.
Run by Food Standards Scotland with local council environmental health departments, Eat Safe aims to promote the highest standards of food hygiene and food safety management within commercial food businesses.  The award recognises the highest standard for excellence in all aspects of preparing food for consumers and exceeds normal food safety and statutory standards.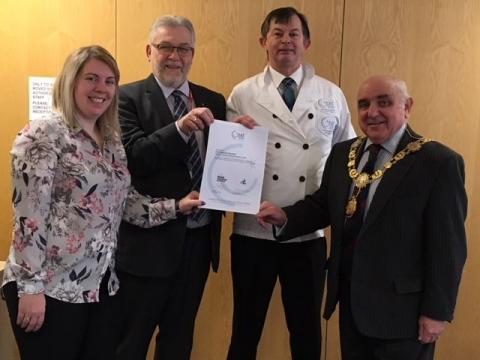 The Retreat's kitchen team during the 2017 season were Debbie Wherett, Liz Hamilton, Cara Palmer and Chris Cousins. New hygiene systems and a food safety management manual were implemented by consultant hygiene chef Graham Horton.
Pictured left to right are - Carol Kinmond , our Environmental Health Officer; Jim Houston, chairman of the Glenesk Trust; Graham Horton, Consultant Hygiene Chef; and Angus Provost Ronnie Proctor.