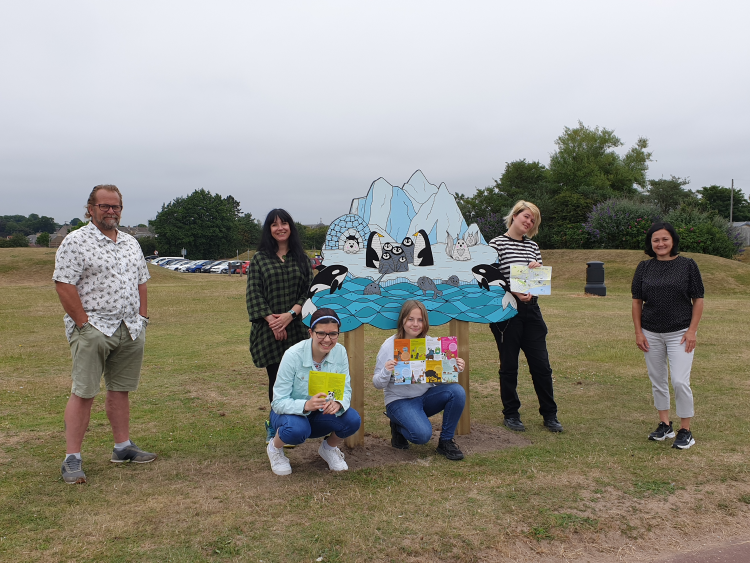 Friday 23 July 2021
A new art trail designed by children and young people launched today (Friday 23 July 2021) in Monifieth with eight artworks spread throughout the town encouraging people to explore and discover hidden gems as they follow the trail.
The idea by Monifieth Youth Steering Group (MYSG), Angus Council's Communities Team and staff at Monifieth High School saw P5-P7 pupils from local primary schools researching and designing a world continent theme before successful artist Suzanne Scott created the art boards.
Angus Council's Communities Convener Cllr Mark Salmond said: "It's been such a difficult year for children and young people and this art trail is a great way to bring people together to create something fun that gets the wider community and visitors walking and cycling while exploring the local town.
"The art boards are amazing, so bright and colourful as well as informative. Where else can you pass some great landmarks, such as the Seven Archers and Blue Seaway Park while learning interesting facts about the world. The children, Suzanne and all those involved have done a fantastic job!"
Artist, Suzanne Scott said: "I can't believe we managed to create an art trail involving hundreds of children and young people during a pandemic. The drawings they produced from their research were brilliant and gave me the material I needed to develop the designs. Their creativity, imagination and determination has been inspiring."
Morgan McLaren, member of the Monifieth Youth Steering Group said "It has been a fun project to be involved in while creating something good for the community.", with fellow member Robyn Jenkins adding: "I can't believe we managed to do so much with all the restrictions. Loved how we have been able to involve everyone in this project."
The P5-P7 pupils from Auchterhouse, Birkhill, Grange, Liff, Mattocks, Murroes and Seaview primary schools researched, drew, and designed images around people, landmarks, animals, and places. Artist, Suzanne captured the essence of the children's drawings and designs to create the art boards in her unique artistic style.
The route planned by MYSG highlights areas of interests and includes aspects of the walking and cycle network path through Monifieth.
You can find out more about the trail and download a leaflet with a map from the Visit Angus website. 
(Photo left to right, Mr Davies – Monifieth High School, Suzanne Scott – Whimsical Lush, Lesley Rogers, Robyn Jenkins and Morgan McLaren – Monifieth Youth Steering Group and Sylvia Breen, Communities Officer – Angus Council at the Antarctica art board at the Blue Seaway Park, Monifieth).