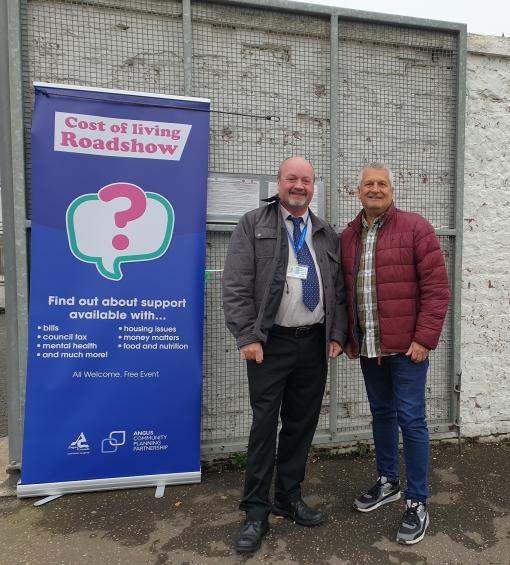 Friday 7 October 2022
The first Angus cost of living roadshow was held on Wednesday 5 October to give advice to people concerned about the rising cost of living.
Over 200 Angus residents attended to get free professional advice on dealing with rising fuel and food costs, money savings and benefits as well as information on financial support available. They also got the chance to see cooking on a budget demonstrations, grab a bags with cooking ingredients and free period products for collection. 
The roadshow organised by The Angus Community Planning Partnership included staff within council services such as welfare rights, housing, revenues and benefits, vibrant communities as well as external organisations Citizens Advice Bureau, PENUMBRA, Scottish Fire and Rescue Service, ANGUSalive, NHS and many others.
Angus Council's spokesperson for Poverty, Welfare Rights and Equalities, Cllr George Meechan said "We know people are worried about the rising cost of living. This roadshow gave residents the chance to speak to the right people from the right organisations in one place, making sure they get the help and advice they need help with the squeeze households are feeling.

"I'd like to thank staff from the community partnership, the council and all of the external organisations for coming along – their commitment to helping people is wonderful. I know they found the event helpful, getting the chance to reach and talk to the people they need to but also in meeting other services they can link up with to work together in the future.
"We are planning how we can deliver similar roadshows in other towns. If anyone was unable to make the event, I'd encourage them to visit the council's cost of living webpage where they can find out online about the support available from the council, our partners, local and national organisations."