Published on Friday 2 April 2021
Our Special Uplifts Team were hard at work in the Happas area recently picking litter on the A90 dual carriageway verges.
In all, they collected 48 bags of rubbish along the stretch that they focused their efforts on.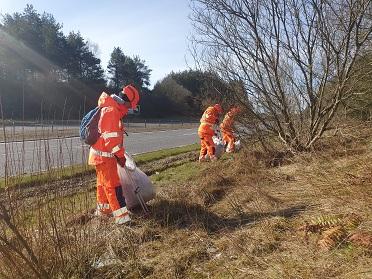 We are putting extra resource into litter and fly-tipping clearance and this recent work is part of a wider ongoing effort to clear litter along the A90 and from other verges in the county.
The additional resource will provide additional staff and vehicles that will focus on littering and fly-tipping clearance, investigation and enforcement, which we hope will be supported by our Community Clean Up and Fly Tipping Prevention Fund.
If you are outdoors in your local area this Easter weekend, please dispose of any rubbish you have in public bins or take it home and bin it there. Littering is not just offensive, it's an offence. So please help us to keep our open spaces tidy.