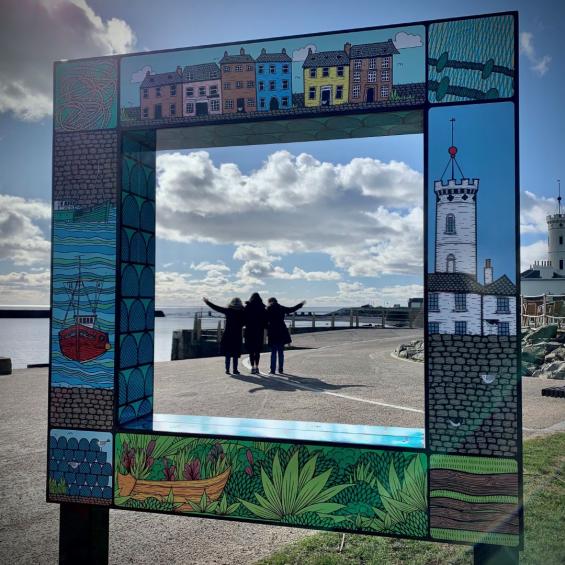 Wednesday 8 March 2023
The Glen Isla and Glen Clova Projects (The Glens Projects) have produced a piece of public art as a way of contributing to their local community.
A Look Through A Window is a bespoke piece of art, designed by the women involved with the projects, in celebration of women and families in Angus. The artwork is located at Arbroath marina and offers members of the public an opportunity to look through a highly decorated window frame. 
Lynne Robertson Team Leader of The Glens said:
"We have wanted to produce a piece of public art for Angus for some time, and so to see our idea being created, completed and sited at the marina, is just amazing.

"The Glens Projects are about women supporting women, and it's very fitting that this project is "unveiled" on International Women's Day.

"My heartfelt thanks go to Whelan and Co Solicitors for funding the Project, to Suzanne Scott from WhimSicAL LusH for leading this project and for all the support she gave to the women, to Bruce Flemming and Jim Norman for helping us find the perfect spot at the marina, to my staff at The Glens Projects and of course to the women who created this stunning piece of artwork.

"We hope visitors to Arbroath marina enjoy the artwork, whether it's to look through the window to admire the view or to use the window to frame family portraits, pet portraits or take a selfie."
Some of the women involved in the project commented that the art group was "really enjoyable" and they were made to feel "comfortable, listened to and encouraged"
One woman described the group as "amazing" and said "the group was so upbeat and was a joy to attend."
Suzanne Scott, artist from WhimSicAL LusH said:
"Working together with women from The Glens Projects to create a sculptural piece for their community, whilst also reflecting the women themselves, has been an absolute joy! They have been so inspiring and creative and have worked so hard to make this happen.

"Every week they wholeheartedly embraced ideas and accepted challenges that often pushed them outwith comfort zones. I'm so proud of each and every one of them and hope that this project has encouraged them to further believe in themselves and their abilities. 

"The women that make up the Glen Isla and Glen Clova Project teams are a testament to what can happen when women truly care about and support other women. They have created a space in Angus for women to feel respected and supported when they are needed the most. It's been a pleasure getting to know everyone and I hope that our window sculpture brings joy every time they are down at the marina."