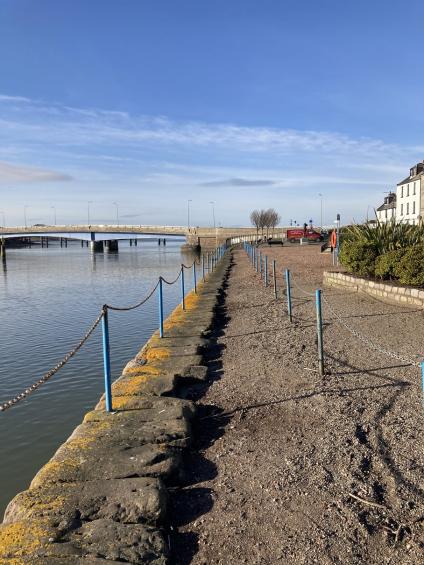 Tuesday 29 March 2022
Back in 2018, Tactran (Tayside and Central Scotland Transport Partnership) completed a study looking at the connecting paths around Montrose suitable for active travel. From this we've a list of potential recommendations on improving walking and cycling links across the town and we would like to get your views on the proposed options. We are at an early stage and are looking to see if it's practical to develop potential routes and options identified.
Potential routes and changes
T1E, High Street, Murray Street, North Esk Road, Coronation Avenue – Introduce continuous footways/cycleways cross-overs at: Hume Street, Victoria Street, Lower Hall Street (west), Redfield Road, Redfield Crescent, Nursery Road, Little Nursery and Distillery View.  Introduce continuous footways at New Wynd, Lower Hall Street (east), King Street and John Street. Introduce a raised table at North Street.
T2C, Wellington Place, Union Place and Eastern Road – Section of route extends between Reform St and Marine Avenue.  Proposals for shared walking and cycling facility on the western side of street (alongside eastern perimeter of park).  The section between Union Place and Reform Street will require the removal of on street parking to deliver sufficient shared width.  An opportunity to extend the route beyond Reform Street through the park and onwards towards the tennis courts.
T2J, Dorward Road/Wellington Gardens/Warrack Terrace – Raised table and slow speed entry feature across the junction with high quality materials and prioritised active travel movement from south side of Dorward Road (west) and proposed green route along centre of Dorward Road (east).
T2K, North St and Dorward Road – Introduce a bi-directional cycleway on south side of carriageway between Wellington Gardens and Murray Street.
T2O, Rosehill Road - Convert existing footway on north side of carriageway to shared use to provide link between Mount Street and North Esk Road.
T3B, Western Road/Hume Street – Alterations to the eastern side of Western Road.  Proposals will reduce the size of the junction including widened footway/cycleway on east side of Western Road with north / south crossing facility.  Potential for signalisation and / or toucan crossing depending on road traffic flows.
T3G, Hume Street – Introduction of shared walking and cycling facility on the southern side of Hume Steet between Western Road and High Street.
T4A, Wharf Street – Introduce bi-directional cycleway on south side of Wharf Street between the A92 and Apple Wynd.  Route of cycleway proposed through the existing gravelled area.  Opportunity to extend the footway eastwards also through the existing gravelled area.
T4B, Wharf St/Apple Wynd – Introduce toucan crossing across Wharf St opposite South Esk Inn with placemaking/ raised carriageway scheme crossing Wharf Street between RNLI and South Esk Inn including Apple Wynd/ Wharf Street / Shore Wynd Junctions.  Introduce shared footway on west side of Apple Wynd.
T4O, Burnside Place/Ogilvie/Terrace/West Terrace/Southesk Place – Provide shared footway / cycleway on north side of the carriageway on existing wide footway.
T6J, Newhame Road – Introduce raised tables and reduced radii along Newhame Rd at Coronation Way, Newmanswalls Way and Langley Avenue.
Your views
The consultation for giving feedback closed on 13 April 2022.
See below for more information about active travel and the benefits, improving design principles and stages of the consultation.
Active travel - Making it easier to walk, cycle and wheel (travel by wheelchair, mobility aid or scooter) can have a lot of benefits for you and your community. Active travel can benefit physical and mental health and wellbeing and has less impact on the environment than making the same journey in a car. Active travel can include walking, cycling (including using e-bikes and handcycles), travelling on a scooter, with the aid of a wheelchair or powered mobility aid.
Improved accessibility - This can include drop kerbs and wider footways. Also, installing tactile paving benefits people with sight loss. Designs can also be made to be autism and dementia friendly by introducing clear signage and benches which would allow people to stop and rest. Improved lighting can help make a route feel safer which, along with other improvements, can make streets safer and healthier for children and young people.
Reduced traffic - More people choosing to walk, wheel or cycle helps reduce vehicle congestion and traffic by removing cars from the road. This improves air quality which can lead to fewer cases of asthma, reduces traffic noise and makes streets safer for children and young people allowing them to make more independent journeys. Reduced traffic could also make bus and car journeys shorter.
Improved economy - Research by Living Streets and Sustrans found that people who walk, wheel and cycle can contribute towards economic growth in the local community, as they are more likely to spend more in local shopping areas as opposed to motorists. It also makes an area more attractive to spend time in and visit, increasing footfall and passing trade for local businesses.
Improving active travel in Arbroath is a response to several national and local strategies and policies including:
• National Transport Policy 2 (NTS2)
• Tactran Regional Transport Strategy 2015-2036
• Local Development Plan (LDP)
• Angus Council's Climate emergency declaration
Tactran Active Travel Strategy: Improved Walking and Cycling Links within the Region (2015) commits to "Develop walking and cycling links to and within town and city centres and to employment, health facilities, services, leisure and tourism activities."
In 2018, Tactran, Tayside's Regional Transport Partnership, published an Active Travel Audit for the Arbroath area. This current piece of work follows on from that audit and builds on its recommendations, ensuring they are still relevant and in line with up-to-date guidance.
Suggested improvements
We have developed an updated proposed active travel network and begun the process of considering what each route could look like. These are general ideas of what improvements could be made and do not deal with specific details; that will come at a later stage. The suggestions are based on a set of design principles set out by Sustrans Scotland.
Design principles
1. Develop ideas collaboratively and in partnership with communities.
2. Facilitate independent walking, cycling, and wheeling for everyone, including an unaccompanied 12-year old.
3. Design places that provide enjoyment, comfort and protection.
4. Ensure access for all and equality of opportunity in public space.
5. Ensure all proposals are developed in a way that is context-specific and evidence-led.
6. Reallocate road space and prioritise people walking, cycling and wheeling over private motor vehicles.
Next steps
Stage 0 – Strategy
Stage 1 – Feasibility and options – this is where we are currently.
Stage 2 – Concept design
Stage 3 – Develop design
Stage 4 – Technical design
Stage 5 – Construction