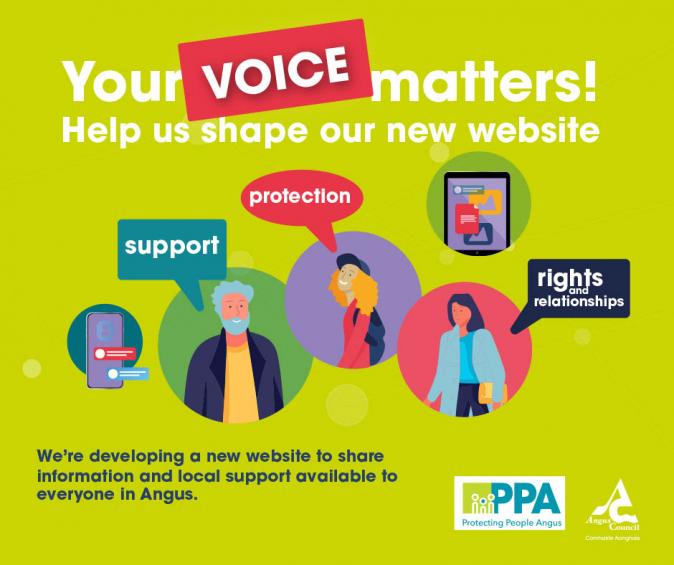 Monday 1 November 2021
We are excited to let you know about a new website that we are developing in Angus and we would really like your views to help us make sure it is what you need.
It will bring together a range of information from several multiagency groups in Angus that look at different aspects of local support and protection needs. They cover many issues which include keeping yourself and others safe and they all work towards providing children and adults with the support they need when they need it and improving community awareness
It will cover information and local support available on subjects such as relationships, your rights, keeping yourself safe, mental health and wellbeing, drugs and alcohol. There will also be a range of information for children, young people and families receiving a social work service.  
Can you please help us make the website the best it can be for you to use by taking part in an anonymous survey? There are three very short surveys which will only take 10 minutes to complete. Please choose the survey that is most appropriate for you.  The surveys are open until Friday 19 November 2021.
Survey for anyone aged under 16 that lives in Angus
Survey for anyone aged over 16 that lives in Angus
Survey for multiagency staff that work in Angus (statutory, voluntary, third sector and private sector).
If you are a member of staff, please promote the survey with as many adults and young people you work with as you can.
Thank you for your help
If you have any queries about the survey or would like to discuss anything about the website, please get in touch with Susan Duncan, Development Officer at  protectingpeopleangus@angus.gov.uk or on 07342 080 324.