Published on Tuesday 7 May 2019
Do you have any ideas or suggestions on what could be done to make travel safer where you live and to encourage active travel in your area through cycling and walking?
Angus Council has been granted £191,000 by Transport Scotland from their Cycling, Walking and Safer Streets (CWSS) programme to support local projects over the coming year.
We want to hear where you think that money could best be spent.
Transport Scotland wants to encourage people to make active travel choices for short everyday journeys wherever possible – steps that would improve health and the environment.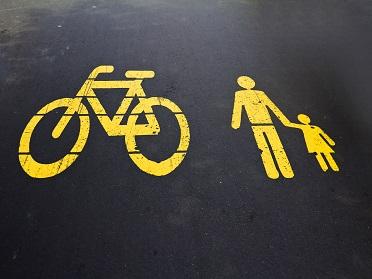 In Angus, we want local people, groups and organisations to lead the way in identifying where there are opportunities to achieve this because promoting safer walking and cycling is good for the individual – particularly children heading to and from school - and the environment.
Projects that benefitted from CWSS funding last year included, foot path upgrades at Keptie Pond, Arbroath; Lordburn Park, Forfar; and King George's Field, Ferryden; as well as the upgrading of existing steps at St David's Street, Brechin; bus stop improvements and a footway link at the House of Dun; and cycle stands for Angus schools.
Transport Scotland has a long term vision setting out how Scotland will look in 2030 should their active travel initiatives be successful. It is linked to the National Walking Strategy and Cycling Action Plan for Scotland 2017-2020 and the newly published Active Travel Task Force report which makes recommendations for overcoming barriers to the delivery of innovative and new walking and cycling infrastructure.
There is no fixed criteria for the number of projects or the set amount to be spent on each one. However, a minimum of 36% of the £191,000 should be allocated to cycling-related projects and all successful projects must support and enhance safe active travel on foot or by bike.
If you or your community group or organisation has any ideas, suggestions or plans, please send them to Roads@angus.gov.uk as soon as you can. All proposals will be reviewed and assessed, with the best and most viable options scheduled to go before the Communities Committee for consideration.