Published on Friday 7 June 2019
We're working with Monifieth Eco Force to help create new dunes on the award winning beach at Blue Seaway.
We have installed sand fencing to help reduce the amount of wind-blown sand gathering on Marine Drive and the nearby recreation park. With the fencing in place, new dunes should emerge and encourage a healthy ecosystem for wildlife.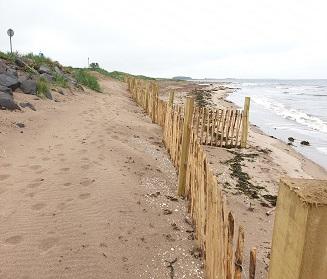 To assist the "young" dune system, volunteer group Monifieth Eco Force will be planting marram grass, with the help of other local groups and schools.
Marram grass is a familiar sight along our coastlines and its matted roots help to stabilise sand dunes, allowing them to grow and support other plant and animal species.
We're delighted to be working with the local community to help make the Monifieth beach – a Keep Scotland Beautiful Scottish Beach Award winner since 2011 - even better.