Published on Friday 19 March 2021
A National Day of Reflection, led by charity Marie Curie, is taking place on Tuesday 23 March 2021, marking one year since the entire nation first entered lockdown due to the Covid-19 pandemic.
Alongside a one minute silence that is planned for noon, various organisations have plans that will help everyone to reflect on our collective loss and hope for a brighter future. A handful of public buildings in Angus will be lighting up as part of a nationwide beacon of remembrance in memory of those who have sadly lost their lives to coronavirus and to once more thank our wonderful NHS and front line workers.
Well known Angus buildings will be illuminated by ANGUSalive before 8pm on the evening until dawn the following day – these include Angus House and Reid Hall in Forfar, Signal Tower Museum in Arbroath, the Ranger Centre at Monikie Country Park and Kirriemuir Town Hall & Library. ANGUSalive will be sharing the illuminations via social media. Due to Coronavirus restrictions people are asked not to make special trips to see the light ups but view them safely from home on social media.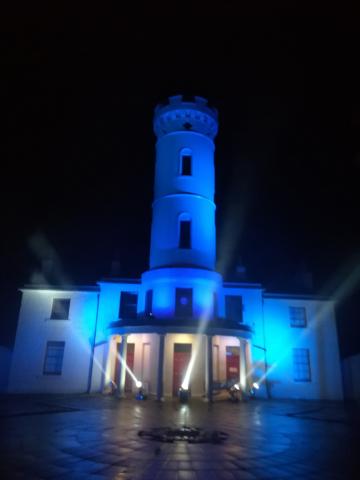 ANGUSalive worked with light company DGLX to light up buildings last year, including  Arbroath's Signal Tower, Montrose Sports Centre and Forfar's Reid Hall to show gratitude to the NHS and frontline workers. ANGUSalive will partner with DGLX once again to recognise this commemorative date.
Angus Council will also be illuminating the four stained-glass windows at the Town and County Hall in Forfar. The windows, which were installed in 1952, along with a commemorative bronze tablet on the building's exterior, honour those who gave their lives in the world wars of 1914-18 and 1939-45.
Angus Council Leader David Fairweather said: "I am delighted that both the Council and ANGUSalive are paying tribute to all of those who have been impacted by this appalling global pandemic and to those who have led the fight against it. This virus has caused tragedy and misery across the world and all too close to home. By response, we have also seen the very best of human nature, fortitude, courage and community spirit. I hope everyone takes an opportunity to remember and reflect upon all that has happened over this past extraordinary year."
Audrey Hood, Theatre Manager for ANGUSalive's Webster Theatre said: "We are approaching a year since the country went into lockdown and we closed our doors. Since then the country has battled with this pandemic and sadly many people have lost their lives and lost loved ones. No one stands unaffected by this virus so it was important for ANGUSalive to mark this National Day of Reflection by shining a light with our local community here in Angus. A big thank you to Duncan Gillies for all his support with these light ups."
Duncan Gillies, owner of DGLX has donated his time and equipment to support the ANGUSalive light ups and is doing so again for the day of reflection. Duncan added: "It's been a challenging and difficult time for many people over the last year, especially the entertainment industry, with many of us not having worked in over a year now.
"Throughout the pandemic, the NHS and all the front line and key workers have been working tirelessly to keep us all safe so when approached by ANGUSalive to help show appreciation for all the work they have been doing, we were more than happy to provide our services.  Now one year on from the first day of lockdown we wanted to once again thank all of the NHS and front line workers and remember everyone who has been affected by COVID-19 by lighting up these buildings as a mark of reflection and appreciation."
You can see the light ups via ANGUSalive's social media Facebook pages at: www.facebook.com/ANGUSaliveTheWebster