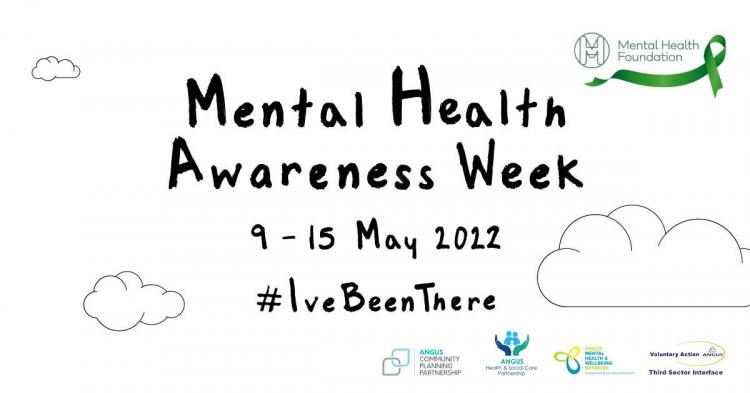 Friday 6 May 2022
Angus Council, Angus Community Planning Partnership, Angus Mental Health and Wellbeing Network, Angus Health and Social Care Partnership and Voluntary Action Angus are promoting Mental Health Awareness week (9 – 15 May) in Angus.
This year the theme is loneliness which affects millions of people across the UK.  Across the country, people will be reflecting on loneliness and how it impacts our mental health. Long-term loneliness is closely linked to mental health problems such as depression and anxiety.
We've organised and are promoting a variety of events throughout the week that local residents can attend to find out about support is available in Angus.
Wednesday 11 May, all day - Monikie Country Park. Please book in advance. 
Wednesday 11 May, 2-3.30pm, NHS Tayside 
Thursday 12 May, all day - leisure and sports facilities across Angus
Blether Bus: Glen Isla and Glen Clova Projects
For women currently involved with the projects. Call 01241 465266 for information.
Music and memories: Alzheimer Scotland Digital
Friday 13 May, 2pm - contact Community Activities Organiser Rosemary Moncur on 07585 700902 or rmoncur@alzscot.org 

Arbroath
---
Penumbra: drop in and meet the team
Monday 9 May, 10am to 4pm - Springfield Medical Centre
Call Penumbra on 01241 873900 to find out more
Penumbra: drop in and meet the team
Monday 9 May, 11am to 1pm - Old and Abbey Church,
Call Penumbra on 01241 873900 to find out more
Monday 9 May, 11am to 1pm - (Cuppa and a blether with VAA staff and volunteers)
Tuesday 10 May, 2-3.30pm - Arbroath Dementia Resource Centre
Community Activities Organiser - Rosemary Moncur ((07585 700902 or rmoncur@alzscot.org)
Wednesday 11 May, 1.30pm-3pm - Angus Carers Centre, Arbroath
To book your free place call 01241 439157 or listening@anguscarers.org
Wednesday 11 May, 2-3.30pm - Arbroath Dementia Resource Centre
Community Activities Organiser – Rosemary Moncur (07585 700902 or rmoncur@alzscot.org)
Alzheimer Scotland: Arbroath Walking Group
Thursday 12 May, 11am - Arbroath Dementia Resource Centre
Community Activities Organiser – Rosemary Moncur, (07585 700902 or rmoncur@alzscot.org)
---
Forfar
Monday 9 May, 9.30am to 12.30pm
Tuesday 10 May, 12-2pm, St Johns Church Hall
Strathmore Cricket Club: coffee and get together
Tuesday 10 May, 1-3pm - Strathmore Cricket Club meeting centre
Call Strathmore Cricket Club on 01307 464289
Penumbra: drop in and meet the team
Wednesday 11 May, 9-11am - S-Mart, 25 West High Street
Call Penumbra on 01241 873900
Thursday 12 May, 10.30-12noon - The Stag, Forfar
To book your free place 01241 439157 or listening@anguscarers.org
Alzheimer Scotland: Forfar drop-in
Thursday 12 May, 2-3,30pm - East and Old Church
Communities activities Organiser – Rosemary Moncur (07585 700902 or rmoncur@alzscot.org)
Strathmore Cricket Club: Walking group
Friday 13 May, 10-11am
Call Strathmore Cricket Club on 01307 464289
Garden party: drop in afternoon
Friday 13 May, 1.30-3.30pm - Forfar Rangers Service, beside Forfar Loch
Chatty cafe: Forfar library
Friday 13 May, 2-4pm - ANGUSalive at Forfar Library
Friday 13 May, 2-4pm - VAA, 5-7 The Cross
---
Kirriemuir
Monday 9 May from 10.30am to 12noon, at Kirrie Connections 
---
Montrose
Montrose Community Trust: Walk and Talk
Monday 9 May, 1pm - leaving from Links Park Stadium, Montrose
Relaxed screening - The Northman (15)
Monday 9 May - Montrose Playhouse Cinema and Art Centre
Tuesday 10 May, 9.30-12.30pm - Borrowfield Community Centre
Tuesday 10 May, 12-1.30pm - Philos Community Hub, Ferryden
Tuesday 10 May, 1-3pm - VAA, Montrose Playhouse Cinema and Art Centre
Health Walk: Montrose Community Trust
Tuesday 10 May, 6.30pm - Leaving from Links Parks Stadium, Montrose
Philos Community Cafe
Wednesday 11 May, 1-3pm - Philos Community Hub, Ferryden
Wednesday 11 May, 7.30-8.30pm
Walk and Talk: Montrose Community Trust
Thursday 12 May, 10am - Leaving from Links Park Stadium
Thursday 12 May, 12-30pm-2pm - Mohub Community Hall
Friday 13 May, 2-4pm - Ferryden Church Hall
Penumbra: drop in and meet the team
Saturday 14 May, 11-3pm - Penumbra Montrose Playhouse Cinema and Art Centre
---
Carnoustie
Wee Wander Walking Group: Communities Team, Angus Council
Tuesday 10 May, 11.30-12.30pm - Meeting at Comrie Hall
Carnoustie Community Cafe: Communities Team, Angus Council
Tuesday 10 May, 1-3pm - Comrie Hall
Monifieth Walking Group: Communities Team, Angus Council
Thursday 12 May, 11am - Meeting point seafront
Thursday 12 May, 1-3pm, Community Cafe, Comrie Hall
---
Brechin
Walk and Talk: Communities Team, Angus Council
Tuesday 10 May, 10am - Leaving from The Crickety
Wednesday 11 May, 1pm - Meet at the library
Wednesday 11 May, 1-3pm - Dalhousie Day Care Centre
Coffee and chat
Thursday 12 May, 10am - Gardner Memorial Church
Tea in the Park
Friday 13 May, 10.30-1.30pm - The Crickety
---
Monifieth
Tuesday 10 May, 10-12pm - Monifieth Parish Church
Monifieth Youth Cafe (secondary school children): Communities Team, Angus Council
Friday 13 May, 1.30-3.30pm - Monifieth Parish Church