Published on 31 May 2018
The construction of the South Montrose Spine Road is nearing completion.
The new section of road is now open and has been named "Rue De Luzarches" after the twin town in France. We would like to take this opportunity to thank the public for their patience while the work takes place.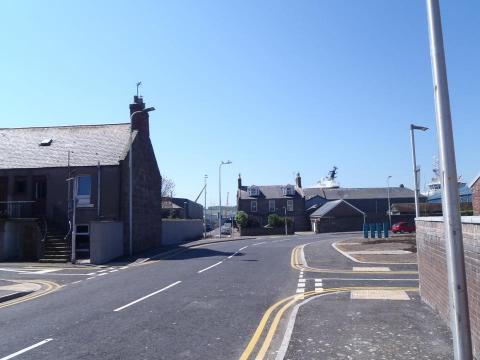 The project involved the demolition of a number of properties, road realignments, new road construction, landscaping and construction of a new feature fence/wall around the port. The aim of the works was to improve the access to the area for large vehicles, remove large vehicles from residential areas, improve safety and improve the look of the area in order to promote private sector investment. Works were constructed by local contractor Kilmac Ltd. Roads and Transportation have been working closely with the contractor to try to ensure that the local residents and businesses were not adversely affected by the on-going construction works. We have received positive feedback from the local residents regarding the efforts of the council and contractor. Start to finish the construction works have taken around 8 months.
Landscaping and new feature fence/wall around the port has also recently been completed.
The road is part of our ongoing Montrose South regeneration programme which brings together private and public sector organisations to improve the area. This has already led to the private sector committing £100 million investment in Montrose South and has created 200 new jobs, with more in the pipeline.