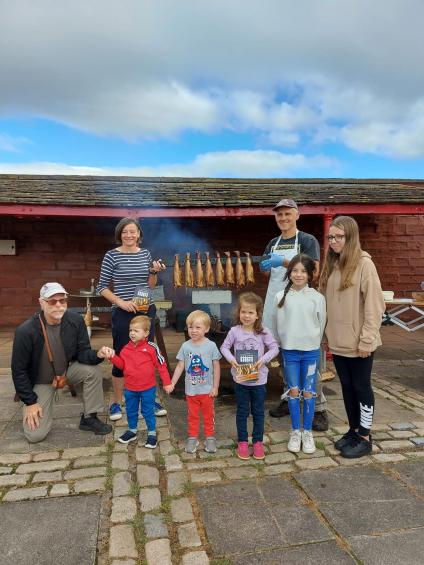 Monday 13 September 2021
A brand-new food trail in Arbroath is putting Angus on the map as a destination of choice for foodies.  
The Arbroath Smokie Trail tells the story of the town's most famous export – the smokie. While taking you on a journey through some of the best places to enjoy the local delicacy you can hear about some of the finest bits of the charming seaside town to visit, including the Arbroath Signal Tower Museum, Arbroath Harbour, the Fit o' the Toon, Arbroath Cliffs and Auchmithie.
Communities Convener, Cllr Mark Salmond said: "For many people no visit to Arbroath is complete without buying smokies, so it's great to see the council and the local community celebrating the wealth of good food and sightseeing opportunities Arbroath has to offer with this new food trail.
"The food and drink industry are so important to tourism and after such a difficult 18 months, it's important that we deliver opportunities to support our local businesses as they work hard to rebuild. There's certainly enough to see and plenty of wonderful places to eat at in Arbroath. It's time we make sure everyone else knows about this wonderful town and its most famous export – the smokie!"
The new Arbroath Smokie trail was launched on Saturday 11 September as part of Doors Open Day weekend, with Appetite for Angus, Visit Angus, Iain Spink (local ambassador of the Arbroath Smokie) and Angus Tourism Cooperative on hand to provide visitor information to everyone who came along to try out the new trail. 
Sophie Thompson, Food and Drink Coordinator from Appetite for Angus said: "The Arbroath Smokie Trail shines a spotlight on Arbroath, Auchmithie and its maritime culture, helping put Angus on the map as a food and drink destination of choice. The launch event was part of the Scottish Food and Drink Fortnight which is a true celebration of local and regional produce, and a perfect opportunity to bring the community and visitors together to see the story of the world-famous Arbroath Smokie."
Speaking about the launch event and trail, Iain Spink (local ambassador of the Arbroath Smokie) said: "It was great to be involved in the launch of the Arbroath Smokie trail which gave visitors the chance to see Smokies being made in the truly original way, to  learn about the history of the product, and best of all, the chance to taste  a freshly made Arbroath smokie straight from the fire."
Locals and visitors can listen to the story of the trail and download The Arbroath Smokie Trail mini podcasts which takes you on a journey from the Arbroath Signal Tower Museum to Auchmithie on the Visit Angus website.