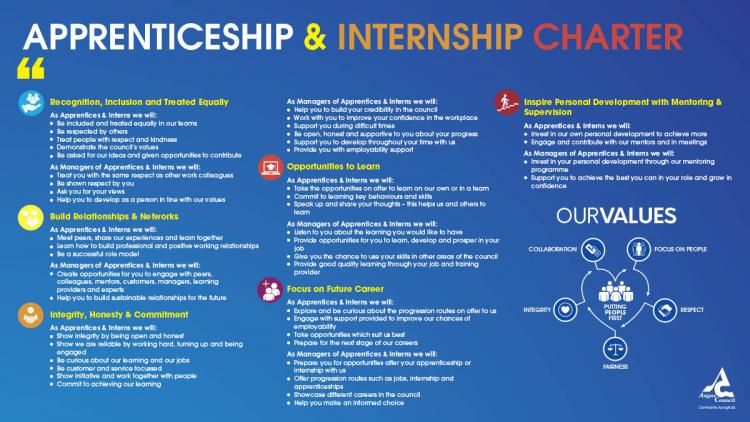 Wednesday 24 November 2021
New charter reinforces our commitment to employ and educate young people in Angus. The charter, developed by a small group of apprentices, sets out how apprentices and interns and their managers will work with others to achieve success.
The charter focuses on: 
recognition
inclusion and equal treatment
building relationships and networks
integrity
honesty and commitment
opportunities to learn
focus on future career and how to inspire personal development with mentoring and supervision.
Mark Armstrong, Depute Chief Executive who spent time last month with some of the council's modern and graduate apprentices and their mentors on a "Walk n Talk" around Forfar Loch, said: "It was a great opportunity to meet some of our apprentices recently, many of whom started their careers during lockdown and have worked remotely since. There is no underestimating that this has been a challenging time for our young people, and I applaud the hard work, motivation and commitment shown by them all."
Merlyn Dunn, chair of the apprenticeships pilot group said: "By creating opportunities for modern and graduate apprentices, internships and suitable progression routes helps us show just how exciting and varied a career with Angus Council can be. Over 30 apprentices across services such as housing, IT, communities, schools and learning, social care, organisational development, economic development and human resources have started with the council since August 2020, and we hope to be able to continue these opportunities in the future."