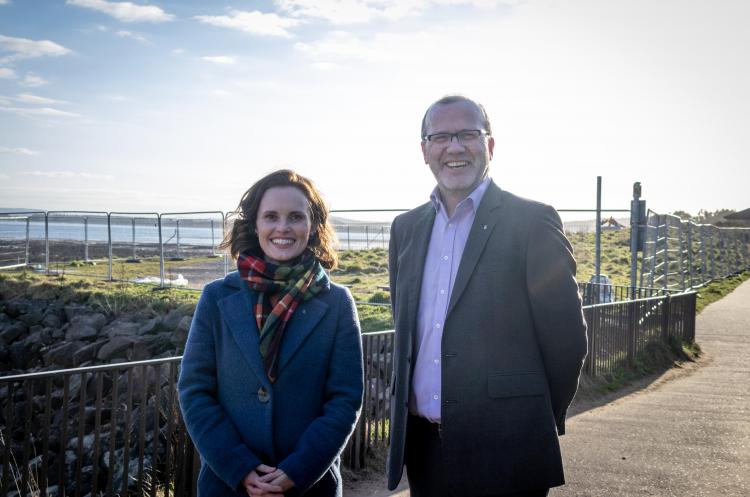 Tuesday 7 March 2023
WORK is underway on the latest phase of the multi-million-pound scheme to create an active travel route between Broughty Ferry and Monifieth.
Preparation work including a new site compound south of Balmossie Rail Station, site clearance near the Dighty Bridge and installation of boundary fencing from Bridge Street to Albert Street has been started.
Mark Flynn convener of Dundee City Council's city development committee said: "While Dundee City Council is managing the work, this is very much a partnership between ourselves and colleagues in Angus and this section marks a significant piece of work in the area.

"The benefits of cycling and walking for our health and our environment are undeniable and while there will be short term inconvenience, when the project is complete it will be a jewel in the crown for this part of the country."
Cllr Serena Cowdy, Councillor for Arbroath West, Letham and Friockheim and Angus Council's Spokesperson for Environment, Tourism and Active Travel said: "It's great to see the work to develop the walking and cycling route through Broughty Ferry and Monifieth reach Angus.

"Although it will cause some disruption to people using this path over the next few months, the outcome will be worth it when people can access a safe, environmentally friendly and enjoyable route while taking in the stunning coastline along Dundee and Angus."
As part of the works the access route from Bridge Street to Balmossie will be closed, although the path next to the railway will remain open from Bridge Albert Street to Balmossie Rail Station.
A temporary culvert will be created to maintain the flow from the Dighty which will then be covered to provide temporary access and a platform for work on the Dighty Bridge and beyond into Angus.
Work on this section is planned to be complete by the end of this year.
Funded by the Scottish Government through Sustrans Scotland's Places for Everyone programme, the coastal path project aims to provide a continuous off-road route between Dundee and Monifieth.
During late 2019 and early 2020, hundreds of people in Broughty Ferry and Monifieth had their say on draft concept designs for improving the coastal path, including improvements to the beach access, as well as links between the coast and the towns.
The exercise found overwhelming support for the multimillion-pound proposals, with more than three-quarters of people in favour of the designs that were presented. Comments on the draft have been used by the project team to help influence the plans and implementation of the scheme going forward.