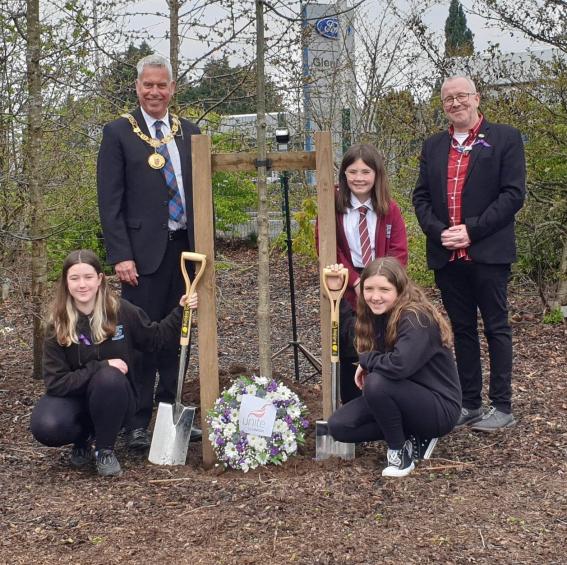 Friday 28 April 2023
A new memorial to honour all those in Angus who have been killed or injured at work has been unveiled at Forfar Community Campus.
An oak tree was planted at a special remembrance event where Angus Council and Trade Union representatives came together to mark International Workers' Memorial Day (IWMD) (28 April 2023). A memorial bench funded by donations from Trade Unions UNISON, EIS, Unite and GMB and the council, is being designed by young people at Forfar Academy, will be placed by the tree offering a perfect place to pause and reflect.   
Angus Council's Provost Cllr Brian Boyd was joined by Chris Boyle, Branch Secretary UNISON Angus and representatives from EIS, Unite and GMB, young people from Arbroath Academy with music provided by Angus Schools Music Service to see the planting of the oak tree at Forfar Community Campus at a short ceremony.
The young people from Forfar Academy are designing and will make a memorial bench and tree guard that will sit beside the oak tree. The young people also researched locations for the memorial before it was agreed Forfar Community Campus was the most suitable.
Angus Council's Lord Provost Cllr Brian Boyd said:
"I'd like to thank everyone for coming together to mark this special day to see the unveiling for this permanent memorial where people can reflect and remember others who have lost their lives at work.
" International Workers' Memorial Day is an important reminder each year of the dedication shown by workers. As a council, we're proud to work with our trade union representatives to reinforce our commitment the health, safety and welfare of all staff and those affected by the Council's operations.  
"It's great to see the young people from Forfar Academy involved. They've done an amazing job on researching the location of the memorial site and the design of the bench."
Chris Boyle, Branch Secretary UNISON Angus said on behalf of UNISON Angus and other unions said: "On behalf of unison and my trade union colleagues from EIS, Unite and GMB, it is an  honour to represent Angus Local Government workers and the larger trade union movement at our first international workers Memorial Day commemoration. We came together late last year with the Council  to agree to jointly fund a memorial bench and tree  which have been designed with so much thought, care and commitment by S1 and S2 lunch club students at Forfar Academy.
"International workers Memorial Day was first recognised in 1992 and globally, the event brings together workers, their representatives and those with a passion and zeal for ensuring that legislation and appropriate mitigations are in place to protect the living whilst they go about their work and to remember the dead – those who lost their lives working. Working to provide for their families and themselves.
"It's notable here in Angus as we play our part for the first time in helping turn Scotland purple - the colour of the ribbons that we wear today to remember those who have died as a result of accidents, injuries or illnesses caused by work.
"The Trade Union movement is serious about Health & Safety. We continue to campaign tirelessly to improve working conditions and challenge issues that risk the health, safety and wellbeing of our members. And for unions and working people across the world and in the UK, 2023 is a hugely important year,  following the International Trade Union Congress's recognition that a safe healthy work environment is a fundamental right for workers.
"In such challenging times for Local Government workers and with significant cuts to budgets and services looming, it has been good to work with the lunch club pupils and Council colleagues to deliver a lasting and visible memorial for IWMD. And to remember the 2.78 million people who died from occupational accidents in 2021 - more than those killed in wars, acts of violence and road traffic accidents. We will now have a fitting memorial here in Angus."