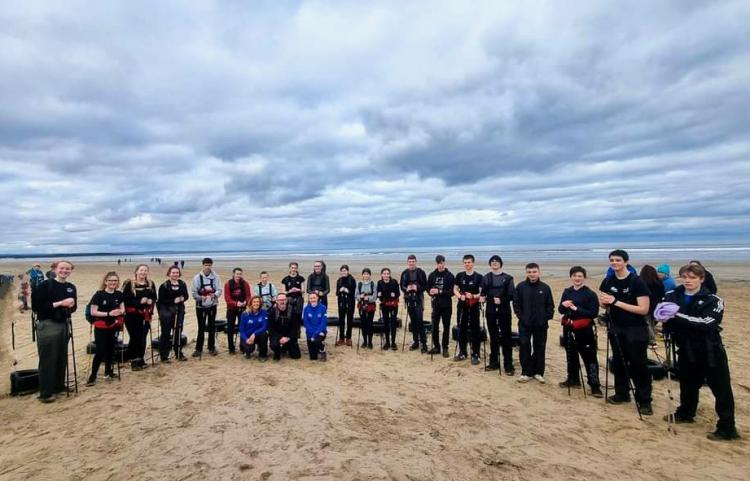 Wednesday 29 March 2023
After months of tough physical training and fundraising, 19 young people from Arbroath High School and Monifieth High School set off on Friday (24 March) to Greenland for a once in a lifetime 10-day expedition challenge with charity The Polar Academy.
After travelling to Reykjavik on Friday and having an extra day there due to snowy conditions in Kulusuk, the group helicoptered to Tasiilaq in Greenland on Sunday to take part in ski practice and further training before setting off on the expedition that started on Tuesday.
The young people aged from 14 – 17, with two teachers, are navigating a 75-mile skiing journey over the 10 days, hauling their own sledges across sea ice and through mountains.
They've completed intense 'Insanity' weekly training and tough 20km tyre hauls across Scotland over the last year to raise their fitness, learned essential outdoor skills and gained Bronze National Navigation award scheme (NNAS SCQF level 4) on the Cairngorms, had training on helicopters and in a cold chamber in Napier University, exciting invites to big Explorer events along with lots of fundraising with families to support their expedition and continue the legacy of this amazing charity.
While there the young people with the Polar Academy charity will be the biggest Scientific Polar Expedition to leave Scotland in 121 years. They will be the first to gather data for new research for Oxford and Cambridge Universities looking into environmental DNA (eDNA) and snow density (climate change). Some of the young people will deliver the findings to the prestigious The Scott Polar Research Institute!
We can't wait to welcome them back home on the Thursday 6 April and to hear all about their adventure! Watch this space! 
Find out more about the Polar Academy on their website.