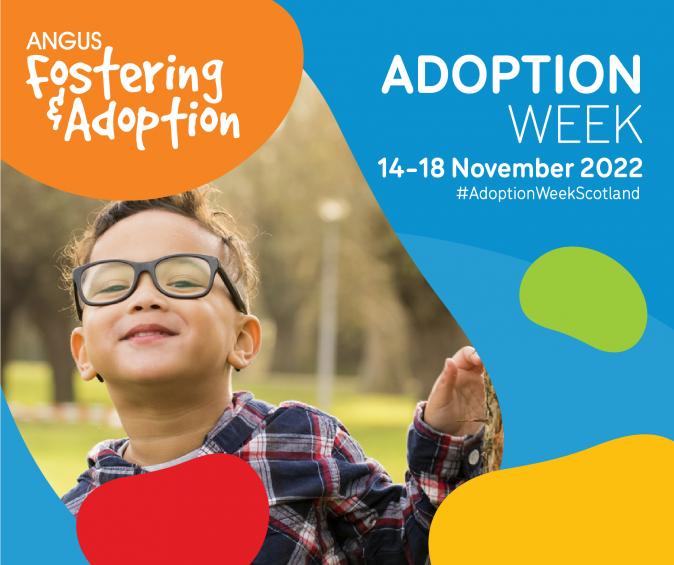 Monday 14 November 2022
Angus Council is proud to support Adoption Week Scotland (14 to 18 November 2022) and is urging people to come forward and consider adoption to help local children find their forever families.
This year, the national campaign focuses on the theme of connection with past, present and future family.  
During the week, the council's campaign will:
share information about how people can c

hange their life and a child's life by growing their family through adoption

share a video from adopters about their journey from their initial adoption enquiry to being matched with their child

see staff share traditions that have been passed on through their family and how being aware of traditions is one way for adopted people to be able to understand and feel connected to their past.
Kathryn Lindsay, Director and Chief Social Work Officer, Angus Council said: "While our goal is to help families stay together, there are times when children and young people cannot live with their birth families.
"Adoption Week's theme this year of connection with the past, present and future family emphasises the need to consider the life story of children and individuals involved, including wider family relationships the child may have when it comes to adoption.
"Potential contact with their birth family, sharing life story information through letters to and from the child's birth family, can help a child understand their heritage, identify and why decisions were made on their behalf. The role of adopters is incredibly rewarding, and part of this is helping children and young people know and appreciate their own identity.
"Our social workers provide a support network, ongoing training and development before, during and after adoption, offering continued assistance to adopters and their children to explore their connections and family relationships."
Angus Council's Convener of Children and Learning, Cllr Lynne Devine said: "Adoption makes a huge difference to both the lives of children and to the whole of the adoptive family. We're looking for people to come forward to find out more about adopting so that local young people can find their forever families.
"I'd encourage anyone thinking about adoption to come along to our information session on 30 November or give the team a call to find out more and see how we can help."
The council is holding an information session on Wednesday 30 November at council offices in Orchardbank, Forfar. You can find out more about the information session and how to book, as well as general information on the council's website or by calling the team on 01241 464646.