Published on Thursday 14 February 2019
Angus Provost, Cllr Ronnie Proctor presented representatives of the Scottish Charity Air Ambulance with a cheque for £3000 today.
This money was raised from a Charity Ball held by the Provost at Glamis Castle in September last year, which was widely supported by many Angus Businesses and individuals whose lives have been touched by this important charity.
This highly valued service requires £2.5 million a year in order to keep running and it is completely reliant on charitable donations. Provost Proctor has long been a champion of this charity and the charity ball was his initiative.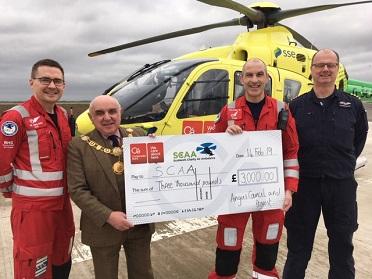 Provost Proctor said, "The SCAA is particularly valued across Angus where many people, both residents and visitors, enjoy outdoor pursuits in remote and hard to reach locations. I am very aware of the life-saving work that they do and I'm obviously not alone, as the support for the ball was incredible. I'd again like to thank everybody who supported it by offering some fantastic raffle and auction prizes and to the folks who attended, putting their hands in their pockets.
"However, I'm here to thank the SCAA for the amazing work that they do and to remind people that every donation makes a difference."
The Scottish Charity Air Ambulance is there for the people of Scotland, 12 hours a day, 365 days a year.  Every year they save hundreds of lives by rapidly getting medical assistance to emergencies and trauma incidents that require urgent and expert attention.