Wednesday 5 February 2020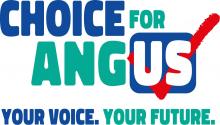 Angus residents are to have a say in how £200,000 of funding should be spent on project within their local area when voting opens on Saturday 8 February. One hundred and fourteen projects have made the final stage of Participatory Budgeting (Choice for Angus).
Choice for Angus lets local people have a say on how a portion of public money is spent. Events have been happening to help develop proposals that will address priorities in communities in Angus. The applications received have been evaluated and it's now time for the public to get involved and vote on what they want in their area.
Our Communities Convener, Councillor Mark Salmond said: "I would encourage as many people as possible across Angus to get involved and vote on Saturday 8 February whether in person or online. This is the community's opportunity to get involved. The more people we can involve in designing services and taking decisions locally, the better decisions we'll get for local people."
By 2021 local authorities will require 1% of their mainstream budget decided through participatory budgeting (PB). This funding provides an opportunity to engage and involve communities in prioritising the use of public resources. This PB exercise sees a mixture of small grant proposals put forward directly by the community together with projects developed in conjunction with various public and third sector organisations now available to vote on. 
Participatory budgeting is about more than just money and budgets. It gives communities opportunities to be involved in discussions that more greatly influence the direction of resources.
How you can vote
Voting is on Saturday 8 February 2020. You can find out more about the projects and vote in person at venues across Angus between 10am and 2pm. Find out more at http://shapingangus.co.uk 
If you can't make it in person you can also vote online at http://shapingangus.co.uk between 7am and 10pm. To vote you must be over 16 years old and resident in Angus.
The winning projects will be announced on Friday 14 February 2020.