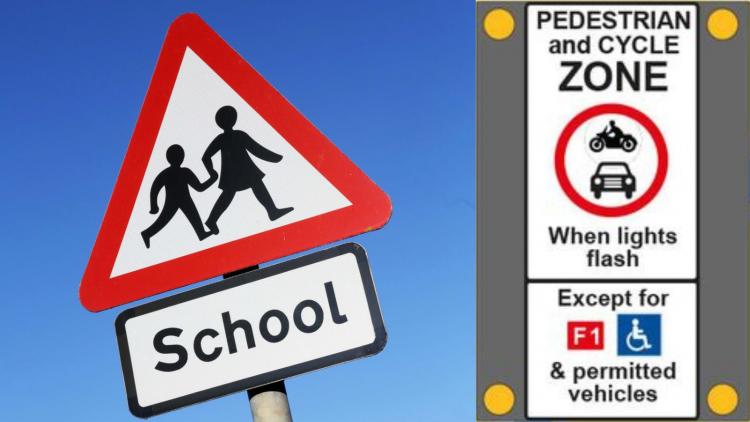 Wednesday 13 July 2022
Five primary schools in Angus are set to trial school exclusion zones to improve road safety and encourage families to school to walk, cycle or scoot to school, when children return to school after the summer holidays on Tuesday 16 August 2022. 
The proposals will see traffic restrictions put in place on certain streets beside Andover, Carlogie, Letham, Liff and Southesk primary schools in the morning and afternoon to help make sure pupils can arrive and leave school safely. The 18-month trial will stop cars from entering the streets within certain times except for emergency services, residents with permit and blue badge holders.
Angus Council's Children and Learning Convener, Cllr Lynne Devine said "Road safety is very important, particularly outside schools, so it's great to see five more schools taking part in the school exclusion zone scheme. These trials are a great opportunity to not only create a safer, more relaxed atmosphere for children and families walking and cycling to school but a healthier environment around our schools too."
Angus Council's Communities Convenor, Cllr Mark McDonald added: "I'm pleased we're extending our school exclusion zones to more schools in Angus, particularly as we're seeing great results from the current trials at Ferryden, Muirfield and Langlands primary schools. Early indications from the initial trials show that the restriction of vehicles within the zones have meant better air quality, reducing the exposures of harmful pollution to children from vehicles.
"I look forward to seeing the evaluation following the 18-month trial to see how effective they prove to be but more importantly seeing the difference this makes to the health and safety of our children attending school."
Before and during the trial, certain markers will be documented such as air quality, traffic volumes, road accidents, congestion and the update of active travel which will help Angus Council decide whether or not to make the order permanent.
Residents living in the streets affected can apply for a permit exempting them from restrictions through Angus Council's website.
Police Scotland will be enforcing the moving vehicle violation element of the school exclusion zones where an unpermitted vehicle entering the zone during the restricted times with a fixed penalty notice. The council's Community Enforcement Wardens will be enforcing doubled yellow lines and school markings within the zones and surrounding areas, to ensure vehicles are not parked in inappropriate locations around the school.
View details of streets affected around the five primary schools.