Published on Thursday 9 May 2019
Join the Tayside Biodiversity Partnership in Kirriemuir as they survey the skies for Scottish swifts returning home.
The group will be holding their Swift Walk and Talk on Friday (10 May), meeting at Kirrie Connections, 5 Bank Street, Kirriemuir, DD8 4BE at 7.30pm. All are welcome to join them as they look up in search of the first swifts back in the Angus Glens. As part of the event, which is part of the Cairngorm Nature Big Weekend, people are invited to report where and when they spot any swifts.
Catherine Lloyd from the Tayside Biodiversity Partnership said: "Our house martins, swallows and sand martins always get home first, but our swifts are the last to arrive. They tend to make landfall in this part of the world in early or mid-May.
"They only stay 12 weeks to breed and raise their young. By mid-August they will be heading south again over the Sahara to 'winter' in central and eastern Africa.  They will stop off en route around the Democratic Republic of Congo for a few weeks to feed up and rest."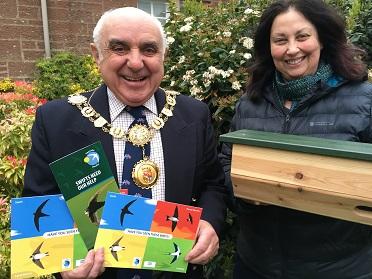 You can find out more about these charismatic birds at the Glen Doll Ranger Base or via www.taysidebiodiversity.co.uk which has a survey form to fill in. Look out for the partnership's colourful postcards which shows the difference between swifts and hirundines.
Angus Provost Ronnie Proctor said: "Everyone is very welcome to come along to the Swift Talk and Walk at Kirriemuir, which is one of the best swift hotspots in Angus. I'd encourage folk to come along and find out from the experts about the swift's amazing lifestyle, their habitats and how we can all help them to thrive. Swift populations across Scotland have plummeted by over 60% in recent years so we need to help them continue to make their home with us."
Further information is available from the Glen Doll Ranger Centre or from the Tayside Biodiversity Partnership where you can also download the Tayside Swifts' Programme of Events for the summer.
Picture shows Provost Ronnie Proctor with Catherine Lloyd, Coordinator at Tayside Biodiversity Partnership. Copyright CAG Lloyd.