Published on Monday 3 June 2019
Environmental charity, Keep Scotland Beautiful, has announced that six Angus beaches have achieved Scottish Beach Award status in 2019. The accolade recognises the high standards provided across the country to beach users.
With the Scottish bathing season underway from 1 June, the annual Scottish Beach Awards recognise the best beaches across the country and act as the benchmark for local environmental quality all along Scotland's coastline.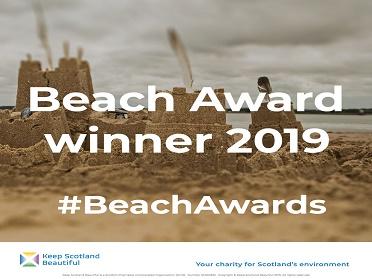 The Angus winning beaches are:
Arbroath (West Links)
Carnoustie
Lunan Bay
Monifieth (Blue Seaway)
Montrose
East Haven
A full regional list and breakdown of award winners can be found on KSB's online beach map.
Angus Council Communities Vice-Convener, Cllr Tommy Stewart added: "I am delighted that our beaches have achieved Scottish Beach Awards status once again this year.
"Once again it provides us with the perfect opportunity to say Thank You to our staff and of course to the legions of community volunteers whose hard work and dedication helps keep our shorefronts clean.
"Our communities play an exemplary role in keeping our beaches clean – coordinating dozens of events throughout the year to remove the discarded litter, flotsam and jetsam from our sands.
"We have marvellous beaches here in Angus, supported by great family attractions such as our Seafront Splash Parks, which are enjoyed by residents and tourists alike. The Scottish Beach Award flag that flies over them is a sign of excellence that highlights their cleanliness, safety and accessibility, as well as their beauty."
Wendy Murray from East Haven Together said: "Residents are both proud and delighted to achieve a Beach Award and would encourage other volunteer groups to ensure that their beaches are maintained in the best condition possible. Rural beaches are a rich part of Scotland's coastal heritage and the communities living alongside them are in a strong position to take on this."
Derek Robertson, Chief Executive of Keep Scotland Beautiful, said: "I would like to congratulate Angus Council and East Haven Together for setting such high standards and securing their Scottish Beach Awards. With the country set to mark 2020 as Scotland's Year of Coasts and Waters, it is only right that we celebrate the achievements of communities, organisations and local authorities across the country in making sure that our beaches provide visitors with the fantastic shoreline experience that they deserve.
"Scotland's coastlines and waters attract thousands of visitors every year. These beach users can be assured that where they see the Scottish Beach Award flag they will have the experience they are looking for: a clean beach, excellent amenities and signposting about the local area, as well as information about water quality."
For a beach to be successful in achieving a Beach Award, it has to meet a range of criteria, including beach safety, access and facilities, and cleanliness. The full beach award criteria can be found on the Keep Scotland Beautiful website.
Focusing on local environmental quality, the award is designed to complement the work currently undertaken by the Scottish Environment Protection Agency on bathing water quality.
A map showing all 61 award-winning beaches with directions, facilities and images can be found on the Beach Awards section of the Keep Scotland Beautiful.