Published on Tuesday 12 February 2019
"Be loved up, not stitched up" is the message from our trading standards team and Financial Harm Sub Committee this Valentine's Day.
The new campaign, running all of Valentine's Week, aims to raise awareness on how to date safely online, focus on making people aware of the dangers of sharing personal information online and how easy it is to become a victim. 
Our vice-convener of Communities, Councillor Tommy Stewart said: "While online dating is very popular, scammers are taking advantage of this and trying to take advantage of someone who is looking for love.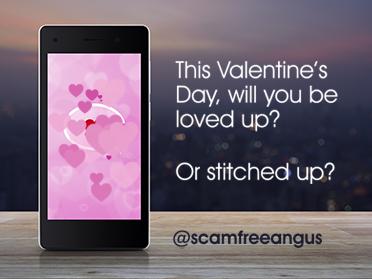 "This Valentine's Week, our message to anyone using online dating platforms is to avoid giving away too many personal details, never send money to anyone you meet online – no matter how convincing their story is, and pick a reputable dating website and always use the site's messaging service."
Angus Council's Trading Standards team run the Scam Free Angus campaign. The campaign works to reduce the amount of people who lose money or goods or property to fraud, cons and tricks. The team supports our communities by providing advice and help, and keep the public informed about local and national campaigns, recent scams and issues.
Keep up-to-date @ScamFreeAngus