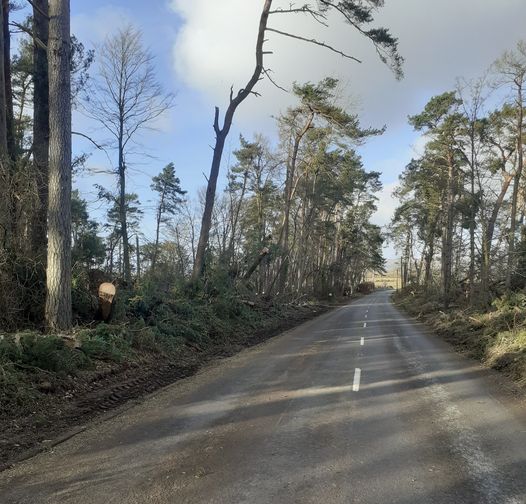 Wednesday 2 February 2022
Unfortunately, we still have a number of properties without power. However, we have been informed by SSEN that they are committing to ensure that all customers will be reconnected tonight. The estimated time of reconnections are as follows:
Edzell area: 11pm

Inchbare: 5pm

Lintrathen and area: 8pm
Community support:
All our leisure centres are available for anyone without power for free phone recharging and hot showers.
Edzell and Inchbare
There will be a burger van in the Muir, Edzell centre from 17:30 tonight until late.

Brechin Golf Club have kindly said that they can provide hot showers, place to charge phone and meals. Please call ahead to book: 01356 622383.

Northern Hotel in Brechin will provide a place to charge phone and meal, but again please book. Showers may also be available but please call ahead first. 01356 625400.
Lintrathen (closest town Kirriemuir)
Airlie Arms Hotel - People welcome to come and charge phone and get a meal but booking is required. 01575 218080

Peel farm is now also open with usual opening times.
Remember that if your power is off you can spend up to £15 per person per meal and be refunded by SSEN (details on their website)
Roads:
The following are closed but are actively being worked on currently:
C35 Tiggerton - Catherthun to Tiggerton jct

U418/1 Balnamoon Estate

C34 Redroofs

U430 Keithock House

U311 Nether Finlarg. Residents have access out to the A90 on farm track through West Tarbrax.
These roads are closed pending heavy plant access so may be a few days
U433 Templewood B966 to C35

U388 Brewlands at Estate House

U391(1) Lintrathen Glen Isla

Glen Prosen C27 closed west side from jct U394 to C25 - open east side C28.
The following roads are open, but some work is continuing on them
B966 Brechin to Edzell

C24 to Airlie school from C23 jct
Schools:
All schools will be open tomorrow and there no issues with school transport.