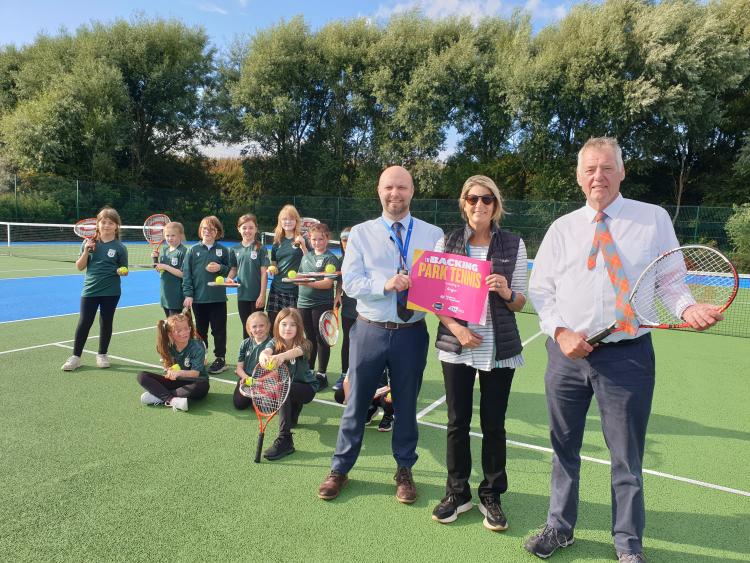 Tuesday 12 September 2023
The public tennis courts in West Links Park, Arbroath have been officially reopened (Monday 11 September) after a £57,198 renovation, managed by Angus Council and the Lawn Tennis Association (LTA), helping to ensure that quality facilities are available for the local community.
The project is part of a nationwide investment by the UK Government and LTA Tennis Foundation, delivered by the LTA, to refurbish public tennis courts across England, Scotland and Wales, making the sport more accessible to more people. This investment will see thousands of existing park tennis courts in poor or unplayable condition across Britain brought back to life for the benefit of communities, through renovation works and improved court accessibility, with new gate-access technology and booking systems.
Park tennis courts are vital in providing opportunities for people of all ages and abilities to get active, delivering significant physical and mental health and wellbeing benefits to participants. Facilities in parks are particularly critical in opening up sport to those from disadvantaged communities and groups, and in addition, the West Links courts is fully accessible, with no steps or ramps, ample parking nearby and Changing Places toilet facilities available within the park (full details are available via this link: Changing Places).
As part of the investment, Angus Council will also work with the LTA to deliver a range of activities across the park sites to include weekly organised free tennis sessions for all ages, playing levels and experience, where equipment is provided. This means that people will not need a partner or to have their own racket etc. Local Tennis Leagues will also provide friendly, sociable, opportunities to get active through local competition. 
Now complete, the West Links tennis courts can be booked at the cost of £5 per court per hour, via on online link on the LTA website: Search & book a tennis court | LTA - that's just £1.25 each for a doubles match!
This also gives access to all other sites in this scheme. The court charge will be reinvested in the maintenance and upkeep of the courts to ensure sustainability of the programme.
Access to the Arbroath courts is via a security keypad, which allows easy access, and they are open from 7am to 10pm (last booking 9pm). 
Investment into parks is one way in which the LTA is working to open tennis up across Scotland, in partnership with Tennis Scotland. The LTA, Tennis Scotland and sportscotland are also delivering the £15million Transforming Scottish Indoor Tennis fund to provide more year-round community accessible tennis provision, including the development of new indoor facilities in Oriam Scotland, in Edinburgh, and Moray, which are currently underway.
Following the hosting of the Billie Jean King Cup Finals and Davis Cup Regional Finals in Glasgow last year, which were both attended by hundreds of school children, work is ongoing to significantly increase the number of young people who have the opportunity to pick up a racket at school, through the LTA Youth programme.
Angus Council's, Communities Convener, Cllr Mark McDonald who officially opened the new courts said: "I welcome this investment in Arbroath's West Links and commend the officers and staff involved for enhancing our leisure offering in this area without costing Angus Council a penny.
"This provides visitors to the West Links with another fantastic activity, alongside the crazy golf, the play park and all the other exceptional attractions that this wonderful part of Arbroath has to offer.
"Tennis is a superb sport and the benefits of being active, especially outdoors, are well recognised. This new facility is another way for people enjoy being active and, with the rapid recent growth of tennis, this is a welcome addition to the park's facilities."
Julie Porter, Chief Operating Officer at the LTA, said, "After months of hard work, we're delighted to see these park tennis courts in Arbroath officially back, open to the public, and in better shape than ever.
"Public tennis courts are such vital facilities for getting active and we want as many people as possible, of all ages and abilities, to pick up a racket and enjoy playing tennis. Thanks to this investment the sport will be opened up to more players for years to come."
"We will also be working closely with Angus Council to ensure that the local community have a range of accessible opportunities to get on court and open up our sport to many more people."
Stuart Andrew MP, Sports Minister, said: "We are committed to levelling up access to sport, which is so important for the nation's physical and mental health.
"The Government and the LTA are working together to deliver thousands of refurbished courts across Great Britain, supported by £30 million of investment including in Angus.
"These improved tennis facilities in West Links Park, Arbroath will provide the local community with fun opportunities to get active and potentially become the next Andy Murray or Emma Raducanu."