Published on Friday 7 June 2019
A Late Bronze Age settlement and the archaeological treasures it surrendered from ground adjacent to Carnoustie High School will be the focus of a public event later this month.
The team of archaeologists behind what was described as the "find of a lifetime", will tell the story of the dig and its significance. From preliminary evaluations in mid-August 2016, through extensive excavation and their exhaustive work to record, analyse and conserve the find, it is a fascinating insight into how our ancestors lived.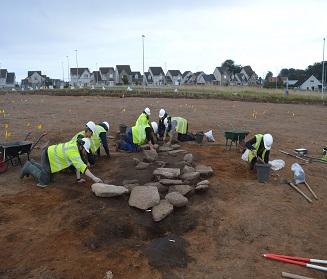 A reconstruction model of the dig site and the settlement that was discovered will be on display, along with replicas of the leaf-shaped sword and its wooden scabbard and a gold-decorated spearhead.
Various other artefacts will also be available to view, with experts on hand to answer questions about a project that also revealed the largest Neolithic hall ever found in Scotland - dating back to around 4000 BC.
The free public engagement event is taking place at the Carnoustie High School Theatre between 6pm and 7.30pm on Monday 17 June.
It will start with a brief overview of the project from GUARD Archaeology, followed by a presentation to young people from the school who were involved in the project. Models and replicas will then be unveiled and available for public viewing.
Everyone is welcome, particularly those young people who were involved in the Archaeology School Engagement Day last summer. You can find out more about the Carnoustie Hoard via GUARD Archaeology's project blog.
On completion of archaeological excavation, the area was transformed into football pitches in accordance with the approved development plans that originally led to the site evaluation.
While it is anticipated that the reconstruction model and replica items will go on display locally in due course, no decision has been taken as yet with regards to the actual sword and spearhead, or the many other artefacts that include querns and pottery.
The archaeology uncovered at Carnoustie is of national and international significance and assists in furthering knowledge of the prehistory of this area. It has provided an invaluable opportunity to learn more about how people in Angus lived in the Neolithic and Bronze Age.
Photograph: Copyright GUARD Archaeology Ltd