Published on 1 April 2021
The fresh spring air may do you the power of good this Easter weekend, but please make sure that your actions are good for everyone.
Country parks, public parks and open spaces are open, and there is public access to areas of open water, coastline and beaches. But to stay safe, please STAY LOCAL and follow FACTS.
From Good Friday (2 April), people in Scotland are being asked to STAY LOCAL. That means you can make non-essential journeys WITHIN your local authority area. But that is pretty much all that changes this weekend. So, please stay close to home and within your local authority area, unless travel beyond it is for essential purposes.
Consider whether there are alternative plans you can make. We want you to be rolling your eggs this Easter safely and not rolling the dice on your and everyone else's health and wellbeing.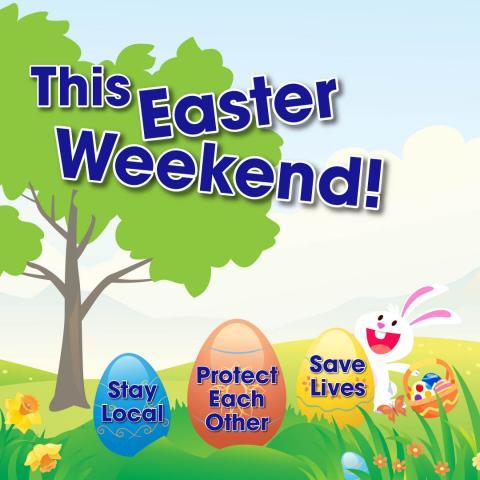 The roll-out of and take up of vaccinations has been brilliant. The majority of people have shown tremendous resilience in sticking to the guidelines aimed at suppressing COVID-19.
We have all come so far and so close to greater freedoms. Please stick with it and let's continue to work together towards better days ahead.
Infection rates do differ across local authority boundaries and in some places are still quite high. A large number of the population is still unvaccinated. Many who do become infected are asymptomatic, so we cannot afford to be complacent, particularly when the virus is more transmissible now than ever.
Police Scotland Tayside Divisional Commander, Chief Superintendent Andrew Todd said: "The coronavirus regulations have had a significant impact on our lives and I would like to thank the vast majority of people who are sticking to the rules and doing the right thing to avoid the spread of the virus as we move through the easing of restrictions.
"People should not travel outwith their local authority area except for essential purposes. While Easter weekend is traditionally a time for visiting friends and family, I would urge people to stay local and follow the regulations on gatherings.
"If you are visiting beauty spots within your local area, do so safely and respectfully – leaving no trace of your visit. Please also park responsibly to allow emergency access.
"Our approach throughout the pandemic has been to engage with the public, explain the legislation and encourage compliance, but we will not hesitate to use our enforcement powers as a last resort."
Guidance on meeting outdoors has not changed for the Easter Weekend.
Large gatherings from several households outdoors are still a no-no, as restrictions on meeting outdoors for socialising, recreation, sport or exercise remain the same.
Activities can start and finish within your local authority area (or up to five miles from its boundary) and can be in groups up to a maximum of four from two households (plus any children under 12). 12-17-year-olds can meet in groups of up to four and are not subject to the two-household limit.
If you arrive somewhere and it's busy…go somewhere quieter, or perhaps head home and go another time.
Car parks and parking around parks, beaches and beauty spots have been real pinch points in better weather and created roads safety issues last Easter, soon after we headed into Lockdown for the first time.
If you are going to any of these areas by car, please park responsibly and safely. If that's not possible then please don't park – head elsewhere or go back another time.
Community Enforcement Wardens will be patrolling hot-spot areas this weekend around country parks, rural and coastal areas. In some places you will see temporary waiting restrictions and cones are in place to prevent inconsiderate and obstructive parking on roads and verges.
Traffic volume and any issues will be monitored and enforced as appropriate and patrols will be stepped up where required.
If you are outdoors in your local area this weekend, please remember the great outdoors is there for us all and we want to keep it great. Dispose of any rubbish you have in public bins or take it home and bin it there. Littering is not just offensive, it's an offence, so please help us to keep our open spaces tidy.
By all means enjoy a day trip locally in line with the guidance But Staying Local means you should not be staying anywhere overnight, whether under someone else's roof, or camping of any kind. Remember, tourist accommodation will not re-open before 26 April.
There is no change to meeting indoors. You can only go to another person's house for reasons such as essential work, joining an extended household, or to provide care and support for a vulnerable person. An Easter Sunday feast, bringing friends and family together under one roof, is off the menu this weekend.
For now, please follow the FACTS advice – wear a face covering, avoid crowded places, clean hands and surfaces regularly, stay 2m away from other people, self-isolate and book a test if you have COVID-19 symptoms.
And Stay Local.
Go to the Scottish Government's Coronavirus in Scotland webpages for detailed information and advice, as well as the timetable for easing restrictions.