Published on Wednesday 3 July 2019
What ideas do you have to put tens of thousands of pounds to good use in your town centre?
A Town Centre Fund of £1.08 million has been made available to Angus by the Scottish Government. Angus Council will distribute that amount to the seven burghs based on population size.
The fund will be invested in new ideas and transformative, sustainable projects – initiatives that can help town centres to flourish and diversify, as well as boost local economies and visitor numbers.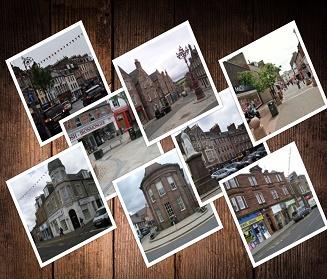 In Angus the funds will be allocated as follows – Arbroath £312,294; Brechin £94,050; Carnoustie £148,709; Forfar £184,142; Kirriemuir £77,215; Monifieth £107,411; Montrose £156,180.
We want your thoughts and comments on the project ideas for using these funds in each of the seven town centres, as well as additional projects that you'd like to be considered.
And you can do this by putting your ideas on the map between now and the end of July, via our Social Pinpoint site www.shapingangus.co.uk/town-centre-fund
On the site, you can add your ideas, as well as seeing and commenting on existing proposals. We want to capture as many suggestions and views as possible through this open forum. It's the place where our officers can interact with you if they need to provide guidance or require further information.
The grant can be used in a variety of ways aligned to the Town Centre Action Plan, including the re-purposing of buildings for housing, retail, business, social and community enterprise, services, leisure and culture, tourism and heritage and improving access and infrastructure.
Themes in the Town Centre Action Plan include –
Town Centre Living – footfall is key to achieving thriving, successful towns centre; and, the best footfall is residential for people who will use shops, services, and will care for its safety and security in the evenings.
Vibrant Local Economies – creating a supportive business environment including the involvement of Business Improvement Districts (BIDs) and other local partnerships.
Enterprising Communities – social enterprise, services, arts and events; and, community empowerment and community based activities which increase the health, wealth and wellbeing of town centres.
Accessible Public Services – creating and accessing public facilities and services, supported by economic, service and transport hubs.
Digital Towns – exploiting digital technology and promoting Wi-Fi infrastructure to enable access to information, data analytics, marketing opportunities, branding, and communication with the wider world.
Proactive Planning – land reform and supporting the creation of sustainable, low-carbon and connected places which promote natural and cultural assets, designed in partnership with local communities and key stakeholders.
The Town Centre Fund must be committed by 31 March 2020 and spent by 30 September 2020. Only capital funding (physical works) will be supported and they must be new, and not existing, projects that can demonstrate the positive impact they can have.
You can also access the Social Pinpoint site via the Have Your Say section of this website and find lots of useful information about the Town Centre Fund on the Scottish Government website.