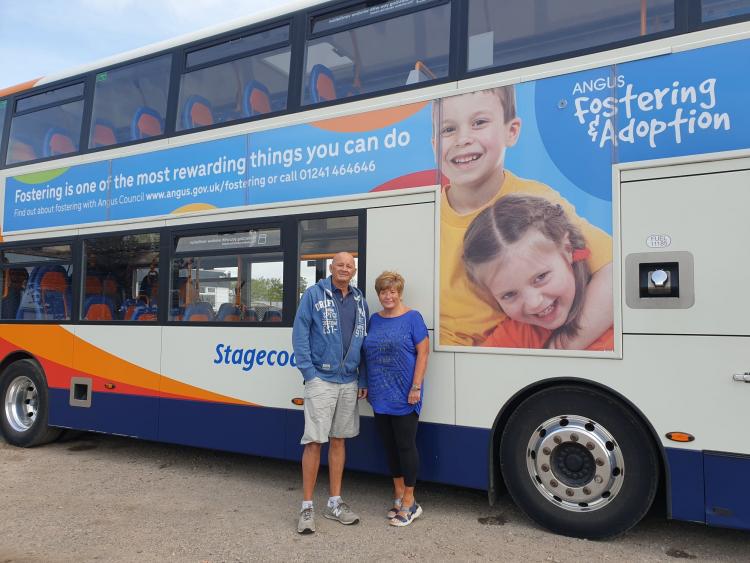 Friday 13 May 2022
Our fostering service is making an urgent appeal during Foster Care Fortnight for people who have been thinking about fostering to come forward to help some of the most vulnerable children and young people in Angus.
Foster Care Fortnight is a national campaign run by the Fostering Network between 9 and 22 May 2022. The theme this year is fostering communities, focusing on shining a light on the many ways people across the fostering community support each other.
The council already supports 65 foster carers offering placements but with 73 children in full time placements, needs more people who can offer a loving home to children, teenagers and sibling groups to come forward.
During the two weeks, we'll be:
- launching a new bus advert
- sharing the journey and experiences of local foster carers through their social media channels Angus Council Fostering and Adoption
- holding an online information session where people can hear from the fostering and permanence team and from foster carers.
On Saturday 21 May, foster carers, the fostering and permanence team and council staff will be taking over the Montrose Park Run, volunteering as stewards, timekeepers and scanners. There will also be a few willing volunteers running, jogging and walking the course. Carers and staff will be available after the event to provide information and answer any questions those attending might have about fostering or adoption.
Kathryn Lindsay, Director of Children, Families and Justice and Chief Social Work Officer said: "Angus Council is delighted to be supporting Foster Care Fortnight. It's a great opportunity to get the message out about the difference fostering makes to children and young people, while highlighting the support we can offer, and I'd encourage anyone interested in becoming a foster carer to contact the council's fostering and permanence team for more information.
"But foster care doesn't just transform the lives of the young people, it can change the lives of foster carers, their families and all those who are involved in fostering. Our foster carers do an amazing job not just supporting our children in Angus but supporting each other, and I'm pleased we can take this opportunity to spread the word of our fantastic fostering community."
Jim and Lorraine Dorward who've been foster carers with us for seven years said: "We started fostering because we thought we could give kids a nice home and a place to come to feel safe. It's great to see the kids enjoy themselves, whether it's when we're taking the dog for a walk, going to the park, swimming – all the things we do together to make them feel at home. It's challenging but we get a lot of satisfaction from caring for children. It's very rewarding and worthwhile."
Foster carers through Angus Council receive a fee to support the cost of looking after a child and get training and support to help them develop the skills they need to make sure they can meet the needs of the children in their care.
As well as attending the Montrose Park Run on 21 May, the council is also holding online information sessions on Wednesday 25 May at 10am, 2pm and 6pm.
If you think you have what it takes to become a foster carer and change the lives of children in Angus, find out more about the events and how to book a place at https://orlo.uk/bI19I or contact the team on 01241 464646.