Published on Thursday 13 December 2018
The excellent working relationship between Angus Council and Baker Hughes, a GE Company (BHGE) was further reinforced today (13 Dec) through a commitment to work positively together on future projects.
Angus Council and BHGE – the world's first and only fullstream provider of integrated oilfield products, services and digital solutions - have identified key areas to work together to develop the Montrose Subsea Centre of Excellence Campus and at the same time benefit the community and BHGE's workforce.
Leader of Angus Council, Cllr David Fairweather, said: "This MoU marks the formalisation of what has been a long-standing, very positive partnership between Angus Council and BHGE – one that has already achieved very significant inward investment into Montrose and Angus.
"The investment in Montrose and North Angus has been significant. BHGE received a Scottish Enterprise grant of £4.9 earlier this year to help develop a £31m manufacturing campus in Montrose. As a council, we have invested £3 million in the Montrose Road South scheme, something that has already achieved a return of £100m in private sector investment. There remains massive potential for development and growth, which is good for local jobs and good for the economy. I'm delighted to make this long term commitment to working together with BHGE in trying to achieve just that."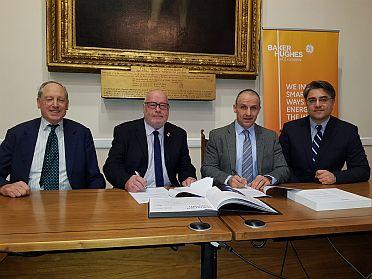 Contained within a Memorandum of Understanding signed today, the collaborative work will build upon the strong community ties that exist in Montrose and Angus. Key areas where the organisations want to work together have been identified and will be advanced. They include –
Community engagement – looking at the potential for volunteering projects in the area, as well as supporting existing or new community projects.
Skills development – BHGE currently draws much of its skilled workforce from Montrose and Angus for its Montrose-based operations and this project will seek to make sure that continues. It will ensure continued development of skills within the BHGE workforce, as well as placing a focus on the company's development of skills in the local community to enhance individual skills and employability.
The project will look at the three sites currently occupied by BHGE in the Montrose area and explore how they might be further developed. It will also look beyond to the North Angus Masterplan and consider the growth for the area over the next 30-40 years and how any development might make best use of the Tay Cities Region Deal.
The MoU also considers how collaborative work could benefit staff at BHGE and will explore opportunities across housing, transport, and personal health and wellbeing.
Graham Gillies, Vice President, Subsea Production Systems & Services, BHGE, said: "We have been working closely with Angus Council for many years and are pleased to continue further developing this relationship which benefits our local communities, our workforce and our customers.
"Our work with local schools to support the next generation of oil and gas professionals is a particularly strong example of the collaborative approach that is helping support a more sustainable future for the industry. We look forward to continuing to work with Angus Council as we develop our new subsea campus in Montrose, which will design and manufacture industry-leading technologies for some of the most significant energy projects around the world."
Pictured at the MoU signing are - Cllr Angus MacMillan Douglas, Deputy Leader and Finance Convener; Cllr David Fairweather, Leader; Graham Gillies, VP Subsea Production Systems & Services, BHGE; Lorenzo Romagnoli, Subsea Production Systems & Services Global Supply Chain Leader, BHGE.