Published on Tuesday 3 September 2019
Friday is a big day for Brechin's Kaylagh Tough as she steps out on the hallowed turf at Murrayfield as Scotland's mascot for their World Cup warm-up game against Georgia.
Kaylagh will be representing Angus LEADER-supported Brechin Rugby Football Club at the match in Edinburgh, which kicks-off at 7.30pm.
Not surprisingly, Kaylagh and her parents are excitedly over the moon at having this fantastic opportunity.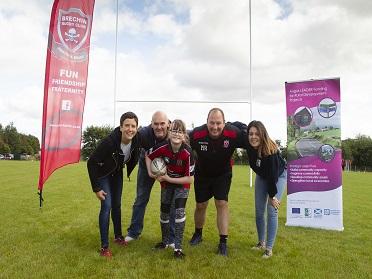 Angus LEADER also has a connection with the visiting side, through its support in Georgia and rural development programmes in the mountainous area of Borjomi, in partnership with global aid organisation Mercy Corps, which has its HQ in Edinburgh.
MercyCorps met with the SRU and the UK's ambassador to Georgia at the Georgia-Scotland match in Tbilisi last week, and were delighted to hear about rural development and support for community rugby.
A spokesperson for Angus LEADER said "It never occurred to us that we would enjoy connections such as this when we were pinpointing Georgia on an atlas in 2015. We're delighted that Kaylagh will be representing her club, Brechin and Angus at Murrayfield on Friday."
Mairi Gougeon, MSP, Minister for Rural Affairs and the Natural Environment added: "Angus LEADER has supported the Brechin RFC with their ambitious development plans, but they have also been working with MercyCorps UK to support rural development in Borjomi, Georgia. LEADER hope to build on these rural/rugby connections but here's hoping that Scotland wins on Friday!"
Pictured from From L to R - Mairi Gougeon MSP, Minister for Rural Affairs and the Natural Environment; Robert Tough (Kaylagh's dad), Kaylagh; Mike Reid (Brechin RFC Chairman and coach); Kim Ritchie (Angus LEADER, assistant coordinator). Photo courtesy of Angus Pictures.