Published on Thursday 13 December 2018
Congratulations to the 11 young Angus people and their two young leaders who marked the completion of their Youth Exchange with a presentation at the Webster Theatre in Arbroath earlier this week.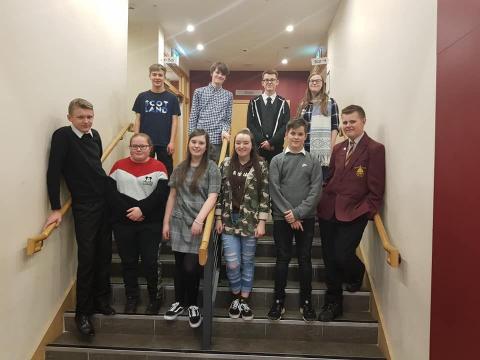 Their exchange with young people in Italy in the summer, funded by Erasmus plus, marked the culmination of a four year project aimed at supporting young people with limited opportunities to experience life out with their local town and area. The project helps them to broaden their thinking as well as their horizons, build confidence and develop independence.
Run by Angus Council's Communities team, the project focused on learning how people in other countries take care of their own health and wellbeing, with the aim of bringing ideas and learning back to where they live to share with their peers, both informally and over social media.
Those taking part said the exchange had a positive impact on their perception of self, their abilities and confidence to travel and take part in new experiences.  Youth work staff played a key role in enabling them to take part and assisted as the young people enhanced their employability skills, career prospects and developed their sense of initiative. 
They learned about how young people from other cultures tackle challenging situations, built intercultural awareness and developed their foreign language skills.  Overall the Youth Exchange gave them an increased sense of self-empowerment and self-esteem as well as a motivation to take part in future learning.