A parking permit allows you to park in any of our off street car parks.
Drivers can buy permits at a cost of:
£260 for 12 months
£130 for six months
£65 for three months
£21.67 for one month
This is the equivalent of 85p per day, based on parking six days a week. Regular users can make huge savings when compared to purchasing individual parking tickets
You can register multiple vehicles on your Pay to Park account and if you have a parking permit, you can park your registered vehicle without having to visit the car park payment terminals.
No limit is placed on the number of vehicles registered on your account but you are limited to a maximum of three vehicles that can be associated with a single permit via Angus Pay to Park.
After that, no further changes to the list of associated vehicles on a permit by the account holder can be made.
If  your vehicle ownership changes during the period of the permit after you have used the user-set maximum of three vehicles, you should contact us so that we can make amendments to your list of permit associated vehicles.
Please note that only one permit vehicle may be designated as the active vehicle at any one time. The parking of a registered vehicle other than the currently active vehicle will require the purchase of a daily parking ticket.
Failure to purchase a daily parking ticket for non-active vehicles will result in the issuing of a parking fine (Penalty Charge Notice).
Permit holders will be bound by the general conditions of use of the car parks as displayed on the main car parks signs in each car park
Blue badge holders
Blue Badge holders and motorcycles are free to park and do not need a permit.
Electric vehicles 
Electric vehicles are free to park only while charging. If not charging, then a parking payment must be made. 
To get a permit, you must first log in or register with our ticketless parking.
1. Log in to your account on the Angus Pay to Park login page
2. Go to 'Parking permits' – see image 1 below.
3. Click on the 'edit' icon on the right hand side (shown in green)
Image 1

4. Check that your 'designated vehicle' associated with the permit is correct - see image 2 below
5. If you wish to change this, select another vehicle (two maximum) from the drop down list at the foot of the page and click 'change'. Underneath the 'designated vehicle you will then see the message 'association of vehicles for the permit modified successfully'.
Image 2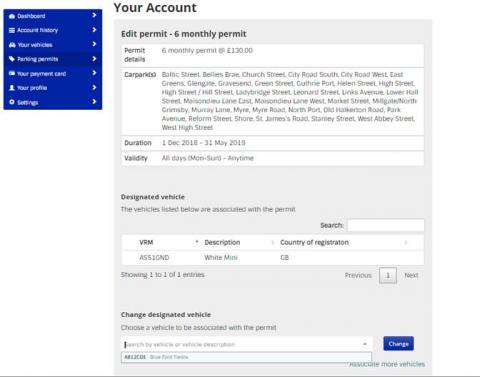 6. Your permit should now be linked to the parked vehicle that you have designated.
How to associate more vehicles with your permit
7. If you have not yet added a second or third (maximum) vehicle to the permit, then you can click on 'associate more vehicles', which would appear below the 'change' button. See Image 3.
Image 3

8. You will see the page below (Image 4), which shows you the 'vehicle already associated with the permit'.
9. You then have the option to select and associate further vehicles with the permit, up to a total maximum of three vehicles per permit.
Image 4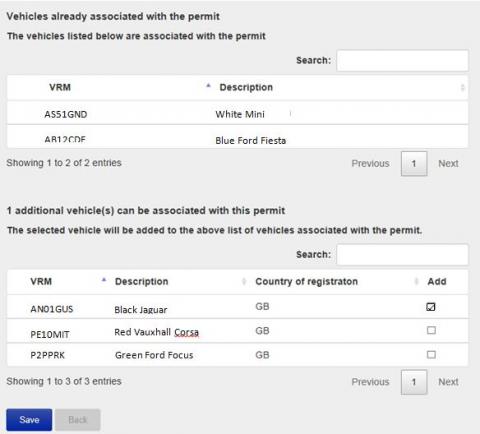 Remember: If you want to park a different associated vehicle instead, you need to go back to steps 1 to 5 of this 'how to' guide.