The Zinc House at Monikie was the winner of the Angus Design Awards Building of the Decade.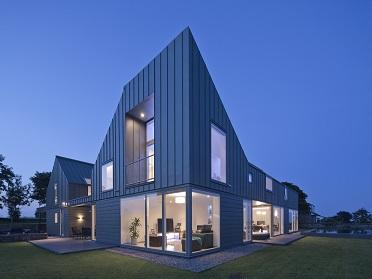 Photo by Mark O'Conner (LJR+H Architects)
The awards, held at Hospitalfield House in Arbroath on 23 April 2019 celebrated the very best of building, design, development and restoration in Angus over the previous ten years. Their purpose is also to inspire and encourage exceptional design quality in future proposals.
Members of the public judged The Zinc House Monikie owned by Mr & Mrs Callison and designed by LJR+H Architects and University of Dundee, to be the winner. As overall winner, they received the Heinz Voigt Memorial Award. 
Category winners 
Best new individual house:
Winner:  Humpty House
Client and designers: Ben & Rosemary Scrimgeour / Building Workshop.
Sponsor and presenter of award: Brian Binnie – Denfind Stone
Best new development:
Winner: Old Orchard Kirkton of Craig
Client: Mr & Mrs Adam/Mr & Mrs Ross /Mr & Mrs Trail /Mr & Mrs Keillor;
Designer: Garry Adam Architect.
Sponsor and presenter of award – Mark Guild – Guild Homes
Best restoration/ conversion:
Winner:  Chapelpark Forfar
Client: Angus Council Housing Service.
Designer:  Angus Council Architects.
Sponsor and presenter of award:  Brandon Bryant - Pert Bruce
Best extension:
Winner: Usan Coastguard Tower
Client:  John Pullar.
Designer:  Garry Adam Architect.
Award presented by Margo Williamson, Chief Executive of Angus Council
In all, there were 44 entries across the four award categories, encompassing a wide variety and range in scale of development…from modest house extensions, to large scale industrial buildings. Judges had the unenviable task of agreeing a shortlist of 13 from that number.
The awards were sponsored by Denfind Stone, Guild Homes, DJ Laing Homes and Pert Bruce Construction. 
The winners:
Photos (click to view gallery)