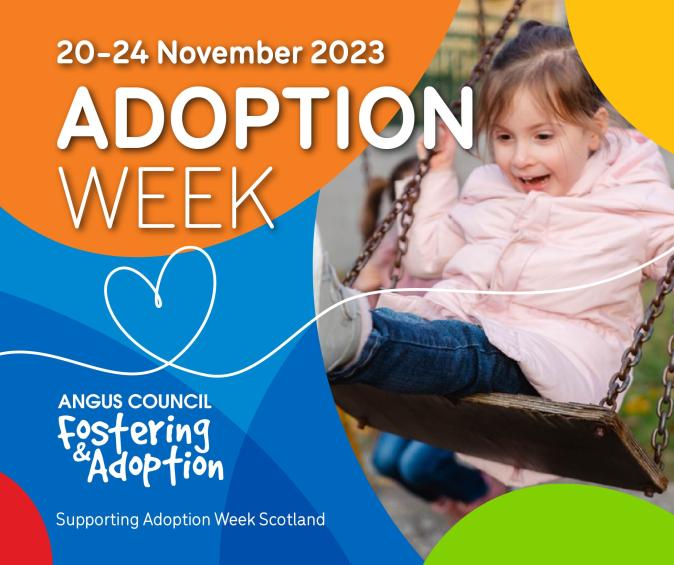 Monday 20 November 2023
We are supporting this year's Adoption Week Scotland, 20 to 24 November.
In Angus there are currently three children waiting for their forever family and we are encouraging potential adopters to come forward to make a difference to the lives of these local children by offering them a safe, loving, and permanent home.
This year's Adoption Week Scotland's theme is listening to and supporting the experience of adoption in Scotland and during adoption week, we'll be highlighting, via our social media channels and in person at a drop-in session, the support available to people thinking about adopting and for those who go on to adopt. The support doesn't stop once the child joins their family, it is ongoing.
Anyone thinking about adopting or fostering can drop-in to our information session on Thursday 23 November at our offices in Bruce House, Arbroath between 5.30pm and 7.30pm. You'll be able to talk to the team to find out more, and chat with foster carers and adoptive parents about their experiences.
Convenor of Children and Learning, Cllr Lynne Devine said:
"I'm delighted to see we are supporting Adoption Week Scotland again this year.

"The theme of listening to and supporting the experience of adoption in Scotland highlights how important the support is for people adopting. When you adopt with the council, support doesn't stop when you adopt a child, the team continues to guide and support adoptive parents and their child throughout their journey.

"Whether it be a chat with their social worker, they are looking for some advice or attending their regular adoption support group catch ups throughout the year, people adopting with the council know there is ongoing support available if they need it.

"If you are looking to grow your family through adoption, I'd encourage you to get in touch with the fostering and adoption team to find out more."
Visit the fostering and adoption website or give the team a call on 01241 464646.